Apple Education Event 2018
Apple today hosted its education-based event at the Lane Tech College Prep High School in Chicago. With the tagline of "Let's take a field trip". In the rest of this article, you will find everything announced. You can catch-up on the event via the Apple TV "Events" app or view the keynote online on Apple's dedicated events page 
iPad 9.7 Inch: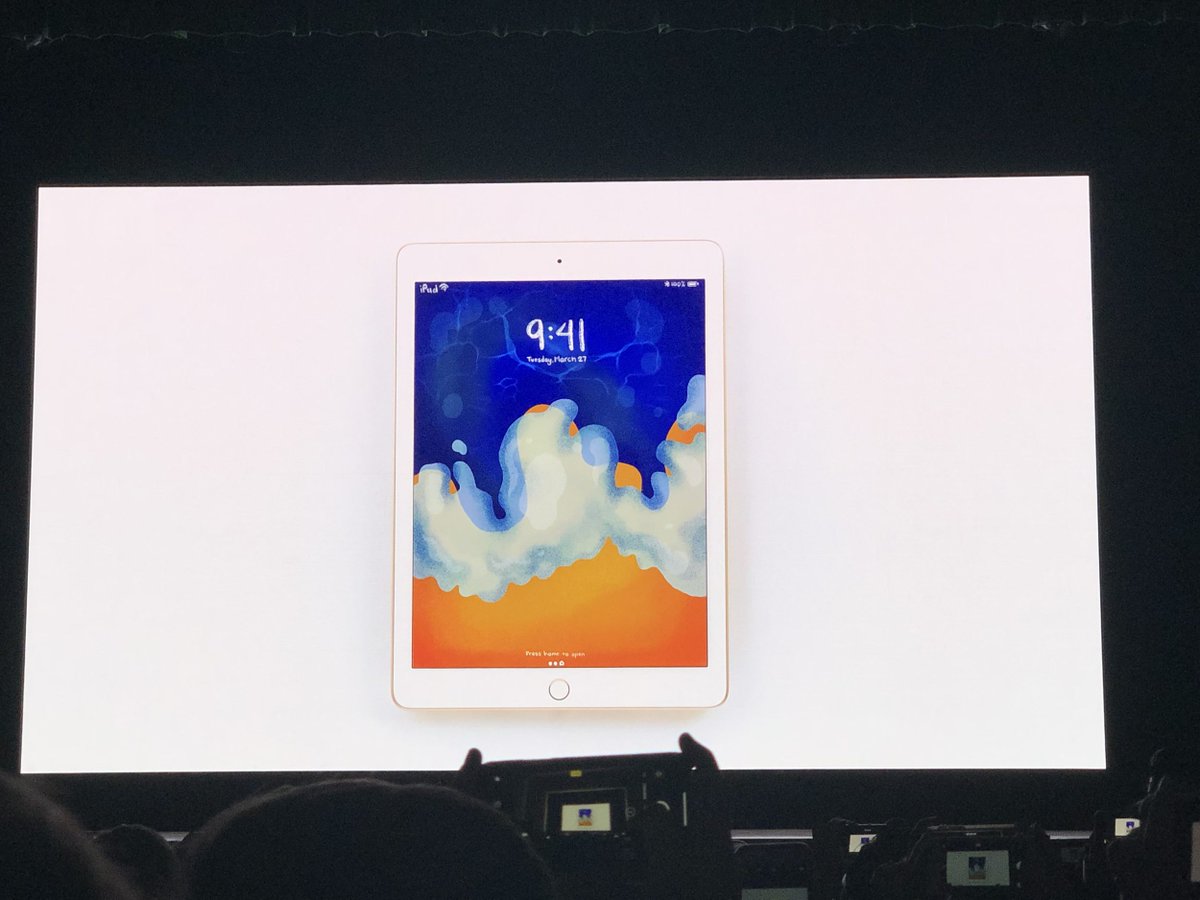 Apple has refreshed its iPad (9.7 inch) which has proven to be extremely popular when it was released for the first time last year, the new device comes with support for the Apple Pencil, which originally only supported the iPad Pro. The updated iPad will include Touch ID, an HD FaceTime camera, an 8-megapixel rear camera, and Apple's A10 Fusion chip. It claims to provide 10 hours of battery life and will be available in an LTE version for those who use it on the go. The new iPad starts at $329 for consumers and is $299 for students.
"iPad is our vision for the future of computing and hundreds of millions of people around the world use it every day at work, in school and for play. This new 9.7-inch iPad takes everything people love about our most popular iPad and makes it even better for inspiring creativity and learning," said Greg Joswiak, Apple's vice president of Product Marketing. "Our most popular and affordable iPad now includes support for Apple Pencil, bringing the advanced capabilities of one of our most creative tools to even more users. This iPad also has the power of the A10 Fusion chip, combined with the big, beautiful Retina display, advanced cameras and sensors that enable incredible AR experiences simply not possible on other devices."
iWork Updates: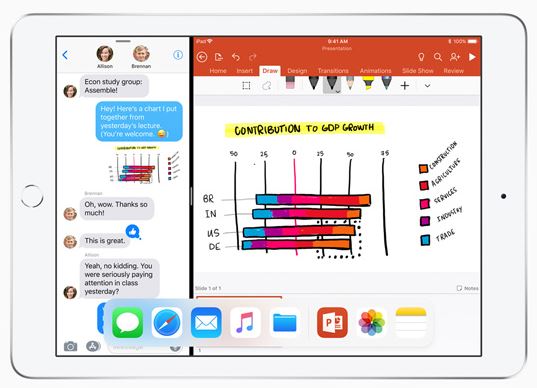 Apple has announced updates to its iWork suite of apps — Keynote, Pages, Numbers — to support the Apple Pencil. Teachers will also be able to mark up documents on Pages with the Apple Pencil. In the new pages update, there is a new book creation tool that allows students and teachers to collaborate to build books by using handwritten notes,  pictures and hand-drawn illustrations.
You can read the full change-log for pages below, which you can now download the update for:
• Draw, write, and annotate using Apple Pencil on supported devices, or use your finger.
– Easily add drawings with pen, pencil, crayon, and fill tools.
– Use Smart Annotation Beta to add comments and marks that stay anchored to their associated text.
• Make beautiful digital books using new book templates.
• Collaborate in real time on documents stored in Box.
• Add an image gallery to view a collection of photos on the same page.
• Use presenter mode to easily read and auto scroll text while giving a speech.
• Create and edit paragraph styles and character styles.
• View pages side by side as you work.
• Turn on facing pages to format your document as two-page spreads.
• Create master pages to keep the design consistent across your page layout document.
• Change your document orientation to landscape or portrait.
• Enhance your documents with a variety of new editable shapes.
• Use donut charts to visualize data in an engaging new way.
• Use conditional highlighting in tables to change the appearance of a cell when the value meets specified conditions.
• New option to automatically format fractions as you type.
Classroom Management Apps: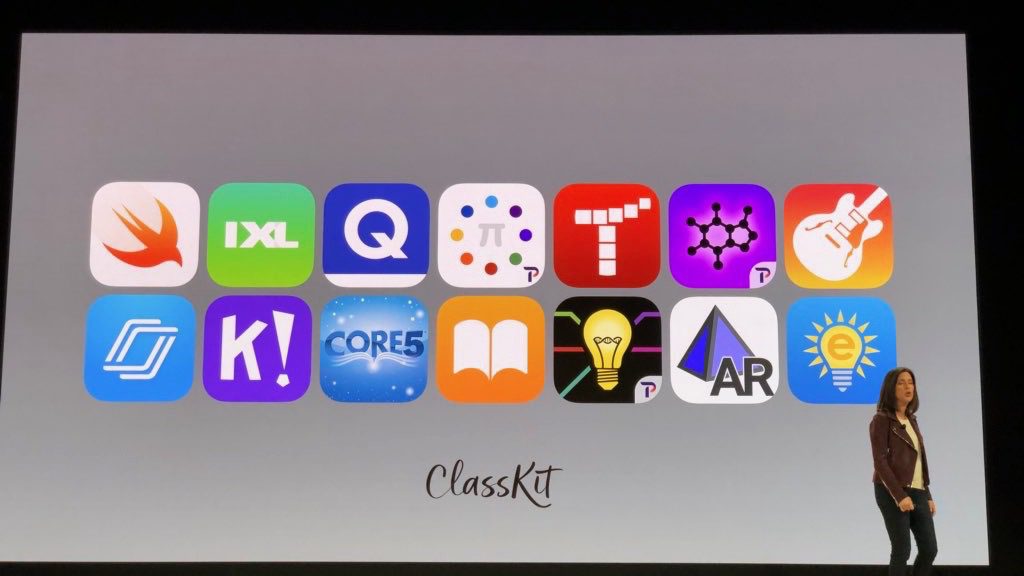 To go alongside the new iPad 9.7 inch, Apple today released a new app for students called "Schoolwork". Which allows teachers to set assignments and digital handouts to students with Apple comparing it to writing an email. Apple has thought the schoolwork app though thoroughly as teachers can even set tasks to complete in other apps. Apple continues its stance on privacy pointing out that Apple cannot access student data. With Schoolwork set to launch in June, it allows for school admins to figure out if they want to use Schoolwork or not for the next academic year.
Each year Apple introduces a range of Developer Kits and as predicted Apple has announced ClassKit for developers to use. Developers will be able to create links to different parts of their app so that they can be assigned out through Schoolwork. ClassKit will be available in iOS 11.4
iCloud Storage Upgrade:
Apple will be upgrading iCloud Storage plans for students — with a managed Apple ID — to 200GB which is a welcome change considering Apple is pushing their "Everyone can create" curriculum. Which as you can imagine is a huge upgrade from the current 5GB offered for free.
Apple Updates its Website Homepage:
Apple has updated the front page of its website www.apple.com and even the country-specific versions of the website, to reflect the new iPad upgrade as well as the companies updates to education. The design of the homepage follows the keynote presentation that Apple delivered earlier today with the cursive font and hand-sketched images.
Appleosophy Coverage:
Kain Monty has been providing coverage of all the announcements from the Apple Education Event which you can read below:
Apple Videos from Today's Event
Your Thoughts:
Let us know your thoughts on all of the announcements from Apple today by leaving a comment below or Tweet me on Twitter: @Kainmonty