How to edit and use Medical ID on your iPhone
About Medical ID:
We all hope that we never have a medical emergency, however, it's not impossible. Therefore, being prepared is in your best interests to make you safe which is why Apple introduced the Medical ID (ICE, In Case of Emergency) in iOS 8. Apple's version of ICE is enhanced with information that not only shows emergency contact information – that you add – but it also can inform first responders, paramedics or medical professionals about any medical conditions, allergies & reactions, medications you take and provides medical notes.
Setting Up Medical ID:
Medical ID also shows your name, date of birth, age and if your an organ donor or not. Medical ID (ICE) is configured inside of the Health app, so follow these instructions to ensure you have everything set up should a medical emergency to you arise:
Open the Health app on your iPhone, running iOS 8 or later.
Tap on Medical ID, located in the menu at the bottom right-hand corner.
Tap Edit, in the top left-hand corner.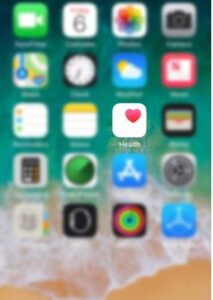 Information about you should have automatically populated, e.g. your name and birthday – if you added this information to your contact card in the Contacts app. At the top of the page, there will be a heading "EMERGENCY ACCESS" with a toggle "Show When Locked" displayed underneath which you can toggle on and off. Apple describes the function of the "Show When Locked" as:
Your Medical ID can be viewed when iPhone is locked by tapping Emergency, then Medical ID. On Apple Watch, press and hold the side button and drag the Medical ID slider to the right.

This information is not included in your Health Data or shared with other apps.
For Medical ID to work as intended by Apple, you need to have the "Show When Locked" toggle on. Obviously, this could be seen as a privacy invasion because anybody can grab your phone and look through the phone numbers of your emergency contacts and their relation to you. Underneath the "EMERGENCY ACCESS" heading, you can add all other information about you that will prove handy during a medical emergency such as:
Picture (Profile Size)
Your Name
Date of Birth
Medical Conditions
Allergies & Reactions
Medications
Blood Type (A+, A-, B+, B-, AB+, AB-, O+, O-
Organ Donor (Yes or No)
Weight
Height
…and finally, your Emergency Contacts – take note, all emergency contacts have to be saved as a contact in your phone – the Health app will also ask you what is your relation to that person; mother, father, parent, brother, sister, son, daughter, child, friend, spouse, partner, assistant, manager, other, housemate, doctor, emergency. Should  – for any reason – you want to delete your Medical ID, you can do so by tapping on "Delete Medical ID" at the bottom of the page.
Apple provides a description on how Emergency Contacts work with the Emergency SOS function introduced in iOS 11 (In India in iOS 10):
Your emergency contacts will receive a message saying you have called emergency services when you use Emergency SOS. Your current location will be included in these messages.
Accessing Medical ID, in an Emergency Situation:
If you need to access somebody else's Medical ID in an emergency (All iPhones) or you want to test out how your's looks on your phone (iPhone's with Touch ID Only) then you can do so by following these instructions:
Scan your finger on the Touch ID sensor and press the home button, if you are using someone else's phone, your fingerprint will not be recognized and you can then tap "Emergency" in the lower left-hand corner, (Skip to Step 3).
If you are using your own phone (with Touch ID) following Step 1, use a finger that you have not set-up to use for Touch ID.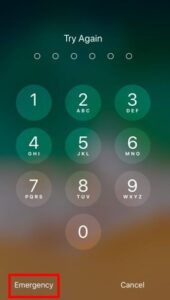 Once you've tapped "Emergency", Tap "Medical ID", then you're done, you should be on the page with the title "Medical ID".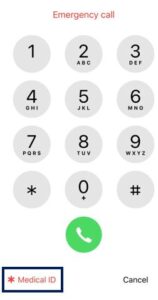 Once you have finished looking at the Medical ID, click "Done", then in the bottom right-hand corner of the Emergency Page, click Cancel.
Conclusion:
We highly recommended that you use Medical ID, as it can provide vital information and save time during an emergency medical situation. Just keep in mind first responders might not know how to access Medical ID so other methods of using a wallpaper with your medical details or keeping an SOS card in your wallet may come in very handy. If you have any questions regarding Medical ID or are struggling to set it up, contact me via Twitter: @Kainmonty and I'll be more than happy to help. Stay Safe and hopefully, this is a feature that will never need to be used.