Apple launches new European Job Creation webpage, touting company and App Store statistics
Apple today has launched a new European Job Creation webpage. The new page touts the fact that the company is supporting over 1.7 million jobs with the tech giant spending €10 billion last year alone. Apple also states that Europe-based App Store developers have earned over €20 billion in App Store sales worldwide saying that 'this is only the beginning'.
Company Stats:
Apple says that they have 22,000 Europe-based employees, 170,000 jobs through their Europe-based suppliers and 1,570,000 jobs in Europe as a result of the App Store ecosystem. All of those numbers total up to a massive 1,760,000 jobs, from across all European countries.
Jobs across the region:
Also on the recently launched webpage, you'll find a slider which will show you statistics ranging from Apple employees to suppliers and app developers that all work across Europe – in what Apple says 'communities large and small'. Some of the countries featured in the slider include; Belgium, Denmark, France, Germany, Ireland, Italy, Netherlands, Norway, Spain, Sweden, Switzerland and the United Kingdom.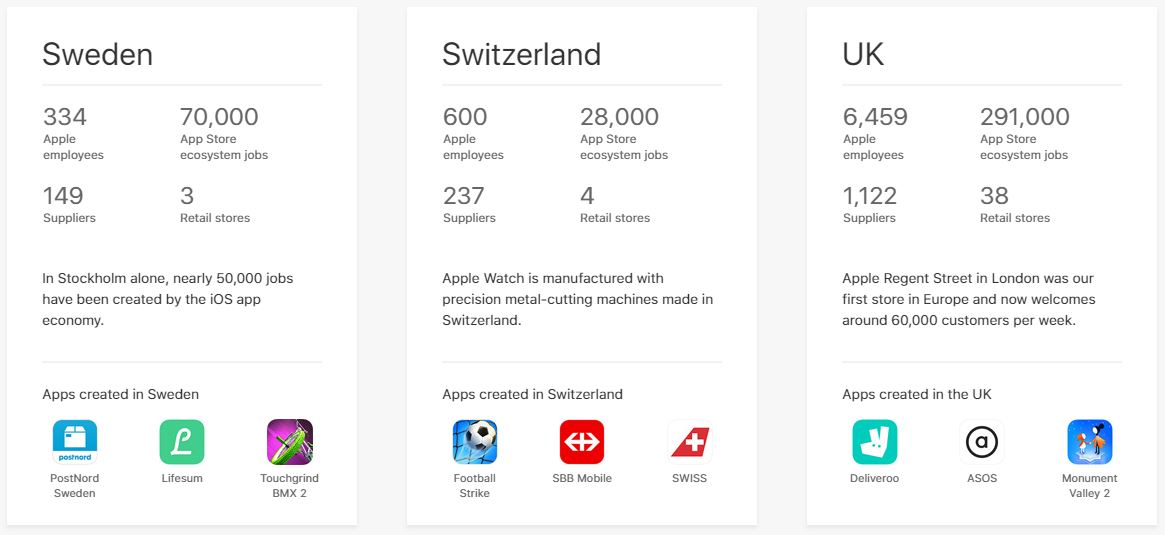 Apple Employees:
Apple has 15 cities with 250 or more employees with 112 Apple Stores in 10 different countries and a 15x increase in Apple employment in Europe since 2000. The company also touts about the different opportunities available to staff:
Apple jobs span a wide range of roles — supply chain, operations, construction, manufacturing, retail, customer support, marketing, engineers — and their ranks continue to grow. AppleCare call centres serve our customers throughout Europe, with 13,000 representatives across the region. And unlike with many companies, both full- and part-time employees are eligible for such benefits as health insurance, matching retirement contributions and an employee stock purchase plan.
On the website, you will also find a time-scale of the European employee rates since 2000. With key events marked on the timeline such as the launch of the iPod back in 2001, all the way back up to 2016 with the launch of AirPods.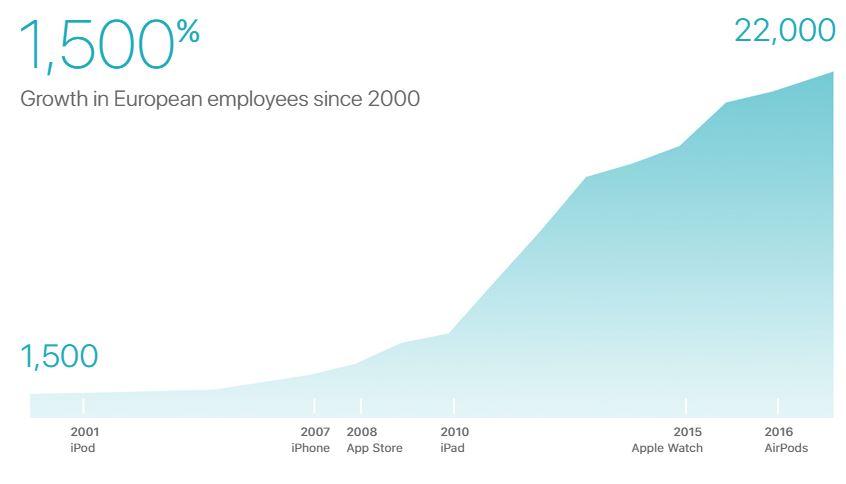 Suppliers:
The company then goes onto talking about manufacturers and suppliers; talking about components for products and to the people who actually deliver and distribute them.
From the people who manufacture components for our products to the people who distribute and deliver them, Apple directly or indirectly supports hundreds of thousands of jobs throughout Europe. With more than 4,300 suppliers in the region, we are working with businesses in every single European country. Our core products — iPhone, iPad, Mac, Apple Watch and Apple TV — contain parts or materials from here in Europe, or are made with equipment from European-based suppliers.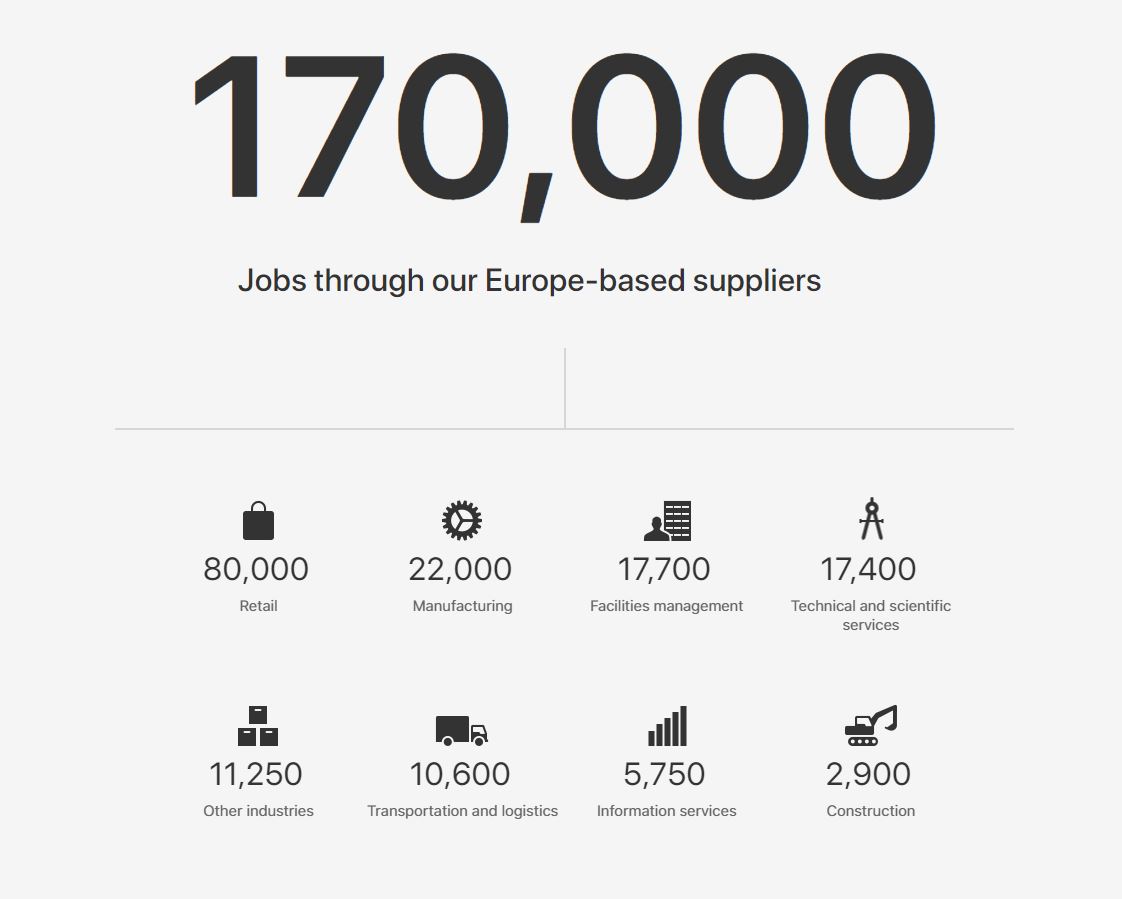 Economy:
Apple states that they ignited the app revolution back in 2008 with the launch of the App Store. Following on from the stats given back at WWDC18 keynote, the company says that in less than a decade the industry has been built around development and app design. With 1.5 million jobs in Europe. All earning more than €20 billion for European developers.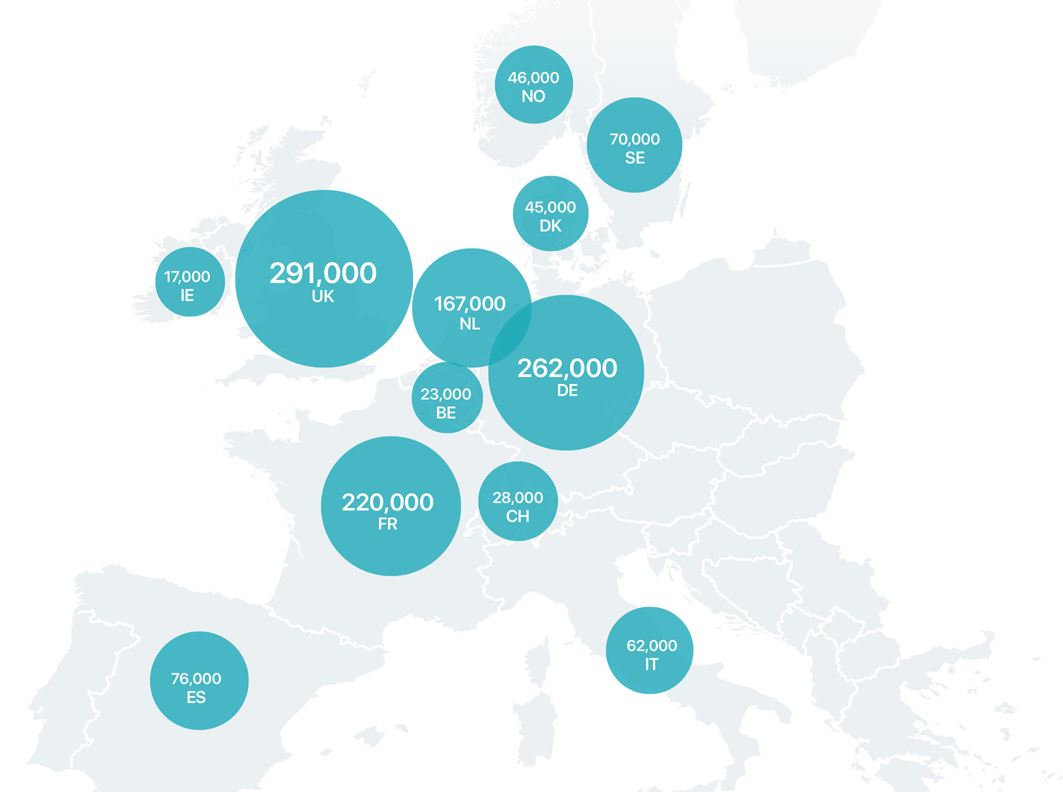 You can view the new European Job Creation webpage here.