One aspect that not a lot of people know about when it comes to Apple is its fascination with gaming. With the release of Apple Arcade in 2019, Apple is quietly been getting more and more into the gaming scene.
It is with that fascination that the company is now selling DualSense PlayStation 5 Wireless Controllers in its online store. The controller costs $69.95.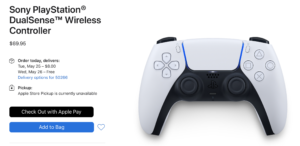 At this time, this item is only available to be purchased online and not available through the Apple retail stores.
To use this PlayStation 5, a user must have iOS and iPadOS 14.5 installed on their iPhone, iPod Touch and iPad, as well as the newest software updates on the Apple TV HD, Apple TV 4K and Mac.
The controller is designed for users to play games through Apple Arcade on the devices listed above.
Apple's online store does obviously accept Apple Pay and Apple Card users will get 3% in Daily Cash on each order they make with it.
What do you think of Apple selling this PlayStation 5 controller through its online store for Apple Arcade users. Do you plan on buying one? Comment below or let us know on Twitter at @appleosophy.