Remember the feeling you would get on Christmas Eve – hardly being able to fall asleep while you waited for Santa to arrive and bestow upon you toys and gizmos you had been dreaming about all year?
Well, that's the feeling I get as an adult in two scenarios: the night before Apple's annual WWDC, and the night before a big Apple delivery.
---
The Drop Off
May 20th was one of those nights for me, as I neared the end of my painstaking, month-long wait from announcement to release of the newly-reimagined iMac.
With its gorgeous multi-colored designe (inspired by the six-color palate logo from Apple of yore), slimmed down body, and thoughtfully-considered magnetic I/O, when the machine was unveiled in April 2021, it was truly a spectacle to behold.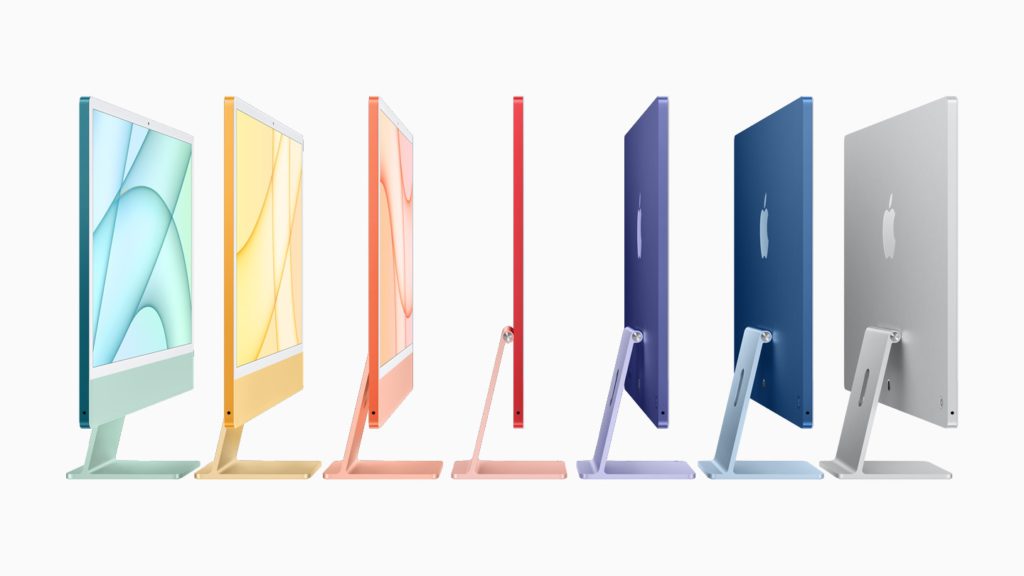 As expected (based on strong rumors), Apple also announced that the new desktops would include the blazingly fast proprietary ARM chip: the M1.
On top of that, they announced all-new peripherals, including a color-matched Magic Keyboard with Touch ID and a slightly-reshaped Magic Trackpad (also color-matched).  
While not a lot changed on the Magic Mouse, it also received the special color treatment.
---
The Unboxing
My self-described adult Christmas morning finally came the afternoon on the 21st, right on schedule. It was as if the technology deities convened to orchestrate the delivery, because FedEx and UPS arrived at the same time, and all of my prizes were neatly stacked on my porch, waiting for their newfound owner to unwrap them.
As a lifelong fan of the color green, I opted for the green / teal combination for my new iMac. I was so excited that Apple finally was releasing something besides a case in modern times that was crafted so beautifully in the color that I loved.
I don't think it's well-known (especially not for these new models) that Apple actually offers VESA-compatible versions of certain iMac models. When you opt for this, the machine actually comes without a stand (in favor of VESA-mountable screw holes). This option is available on all of the 24" models and also for the current-gen 27" models.
As with nearly all Apple products, the unboxing was a delight. However, the thought, I feel, that went into the intricacies of the packaging was superior to any other Apple product I had ever opened (and I have opened a lot).
Seeing that I needed some assistance (especially with the VESA mount), I had my generous neighbor come over to help me get better leverage on this delicate piece of giant glass.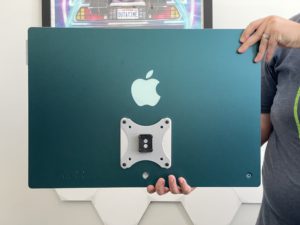 I've had my dual-armed monitor mount for a while now, and while slightly under its resolution at 4.5K, the new iMac lines up perfectly with my 27" LG Ultrafine 5K display footprint-wise. I am really happy with the way it turned out: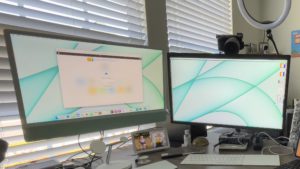 After the rigamarole of data migration and tweaking some settings here and there, I finally got it situated where I could actually use it for a handful of hours this weekend.
---
The Experience
I will run down the main things I have noticed about the the M1 iMac (vs. the M1 13" MacBook Pro & the M1 Mac Mini, specifically):
The best thing about this setup is TouchID on the Magic Keyboard – it is everything I hoped it would be. I am going to have to get used to its convenience.
The computer is obviously quiet, but incredibly cool with its thin body and dual fans – the first M1 machine with 2.
Its frame and design make it as simple to manipulate on the mount as a regular monitor.
Surprisingly, I uncovered that the Magic TrackPad is still using Bluetooth 3.0, while the iMac itself is 5.0, and the keyboard is 5.2…odd.
The camera and speakers are nice, but I won't really be utilizing them (in favor of my mirrorless Sony α6400 + my trusty Harmon/Kardon Soundsticks III)
The green Apple chose for the front and the accessories is very clean-looking and not too loud (same goes with the other color variations).
I actually would say that it is the fastest M1 computer I have used of the 3. This most likely boils down to physics as it pertains to the spacing out of thermals in the machine, paired with its two fans.
The screen is a pleasure upon which to gaze, and finally having an equivalent screen to my 5K with its 500 nits of brightness and its P3 color gamut is so nice. Consumers of all kinds will appreciate the screen, even if they are not into technology.
Something that struck me – that I did not realize until launch day – is the fact that the entire front of the iMac 24" is one giant single sheet of glass…so, don't drop it!
---
Final Thoughts
I am extremely pleased with my purchase. I have had a complicated journey with my M1 devices leading up to this, but I finally feel settled with my setup. This device feels like me. I have come to learn that I am a desktop fan (the human kind, not the thermal kind ?), when paired with an iPad for on the go tasks.
I look forward to spending the coming days and weeks with my colorful companion, and learning about all of the ways in which its power and convenience will help me with both personal and work-related tasks.
---
Are you considering purchasing a new iMac? Do you have thoughts to share about one that you already purchased? Drop a comment below, or hit us up on Twitter / Instagram to share your thoughts and questions!