If you have been thinking about trying out Paramount+ this summer, now is the perfect time to do so.
Apple is currently offering a one-month free trial of Paramount+ through Apple TV Channels on the Apple TV app.
Paramount+ has programming on it from CBS, Nickelodeon, Comedy Central, BET+, MTV and Smithsonian Channel on it, as well as Paramount Originals like the 2021 "iCarly" reboot, "Picard," the "Rugrats" reboot, and plenty of others too.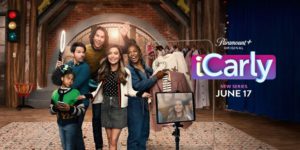 The streaming service does have its fair share of movies like 2020's "Sonic the Hedgehog," "Rocket Man" and documentaries like "Console Wars" that was also released in 2020.
Apple is offering the promotion until Wednesday, June 30. It will include the ad-free version of Paramount+ that will have a live stream of your local CBS station too.
After the free trial ends, the price of the streaming service will go to its original $9.99 per month cost.
The Apple TV app is available on the iPhone, iPod Touch, iPad, Apple TV, Mac, select Smart TVs, Roku, Amazon Fire TV, Google Chromecast, Android TV, XBOX One, XBOX Series X&S, PlayStation 4 and PlayStation 5.