Some people might say I have a problem, nigh obsession, or what I like to call it: a passion for buying and trying different styles of true wireless earbuds.
In 2021, this has been no different (even though I really did think it would slow down after last year – ha!). It seems that every 3-4 weeks, a major brand is announcing new or updated true wireless earbuds.
So far, just in 2021, I've tried the following models:
Jabra Elite 85t
Sony WF-1000MX4
Beats Powerbeats Pro (again)
Samsung Galaxy Buds Plus
Jaybird Vista 2
UE Fits
Bowers & Wilkins PI7
Anker Liberty Air 2 Pro
Master & Dynamic MW08 (which I wrote about)
Beats Studio Buds
These are a few of the things that I look for when I try new true wireless earbuds, in the following order of importance:
Long-term comfort & fit
Pocketability
ANC & Ambient modes
Sound quality & loudness
Ecosystem compatibility
Cost to value ratio
Bluetooth spec / codec
Water & dust resistance
Wireless charging
Yes, 1, 2 & 3 are above 4, because sound quality matters less to me in wireless buds than their primary job of being comfortable and easy to carry with me, as well as adapting to different environments.
I have nicer over-ear headphones that stay at my house for when I care more about sound quality.
Most of the buds on my list check off 4-5 of the above, but not all 9. However, while a couple of them did check off all 9, I ended up landing on the Beats Studio Buds as my all-around favorite.
I won't break down and review all of these, but here is a quick thought about each of the aforementioned models, starting with my top 3 (other than the Studio Beats):
Samsung Galaxy Buds Pro

These check every box except the ecosystem – there is no way (at the time of this writing) for iOS users to customize the buds or update them.

Jaybird Vista 2

These do check every box – especially the fact that they're waterproof. I had a hard time picking between these and the Studio Buds, but the ambient mode lacked pretty hard. *These are also still very new, so firmware updates could improve this issue.

Jabra Elite 85t

Almost perfect: fit well, sounded great, and had all 9 checked, but didn't necessarily excel in any of them. When comparing them to the two above, they weren't as good to me.

Sony WF-1000MX4

Great noise-cancelation, mediocre ambient mode, but made my ears ache consistently and fairly quickly (less than an hour).

Beats Powerbeats Pro (tried again this year)

Case is too big, no wireless charging, and the buds just did not seal well in my ear, which surprised me.

Master & Dynamic MW08 (which I've previously written about)

These are nice headphones, but they're pretty heavy. The case is also very heavy, and with no wireless charging, made it seem like a burden to carry around and deal with. I also had connection issues with intermittent audio dropouts.

Bowers & Wilkins PI7

Great in most aspects, but too expensive at 400 bucks for the features they bring to the table.

UE Fits

I was pretty disappointed with these. I did the fit test & while fun and flashy for the minute it spends "molding" to your ear, the seal and volume were extremely lacking.

Anker Liberty Air 2 Pro

Decent for a budget pair, but I don't mind spending a bit more for higher-end versions that do what they do slightly better in a variety of places.
I have tried other popular wireless buds pre-2021, too, including (of course) AirPods Pro – of which I still have a pair. My main issue with AirPods Pro – like a lot of people – is that they do not stay in my ears comfortably and for long.
Trust me – I have tried all kinds of tips, too: foam, various silicone sizes, silicone with foam, etc.
I think the main issue is – and this can't be solved just because of simple physics – is that I cannot find a pair that go deep enough into my ear canal while also being able to easily fit properly into the charging case.
One of the primary points of wireless buds is convenience and speed, and having to do a dance back and forth every time you want to take the buds in and out – to get the right fit, as well as charge them – is a no-go for me.
That leads me to the main event and my final pick (at least at the time of this writing 😅) of Beats Studio Buds.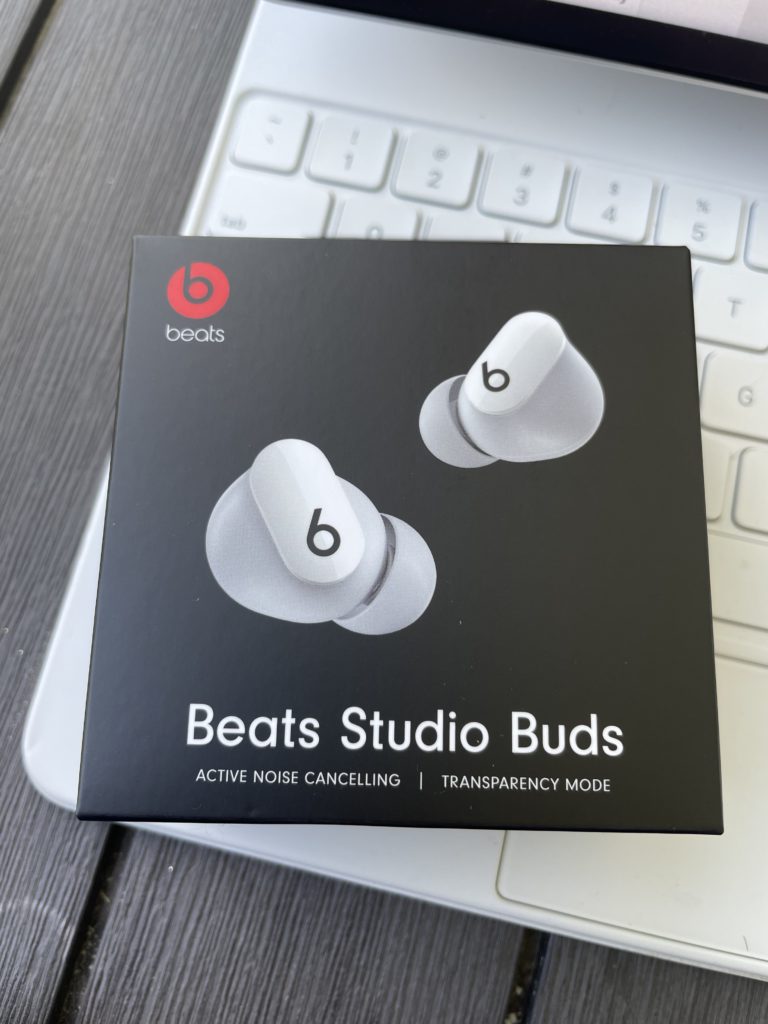 Let's start with what they get right, and what they lack, according to my chart of feature importance:
✅✅ Long-term comfort & fit
✅ Pocketability
✅ ANC & Ambient Modes
✅ Sound quality & loudness
✅ Ecosystem compatibility

✳️ Bonus: Exclusively (for now) native to both major mobile OSes

✅ Cost to value ratio
🆗 Bluetooth spec / Codecs

✳️ Bonus: Supports Spatial Audio for video (without head-tracking)

🆗 Water & dust resistance
❌ Wireless charging
The most important thing to me – the comfort & fit – are what these buds excel most at providing. I simply forget they are in my ear after a while because there is no fatigue, and they are extremely lightweight.
I have done a "fit test" after having them in for around an hour, and they sit in the same position pretty thoroughly – especially with my new Spinfit tips (CP360).
But, I believe the most attractive thing for the majority of public consumers will be the stunningly-low $149.99 price point. They have even already dropped in price in a couple of instances since launch.
I really believe Apple could have gotten away with charging at least $175 for these, so for them to come under what I feel they are worth is truly an exceptional occurrence.
The case is just slightly, slightly bigger than AirPods Pro as well, with a couple of shape differences, too – but overall, very pocketable.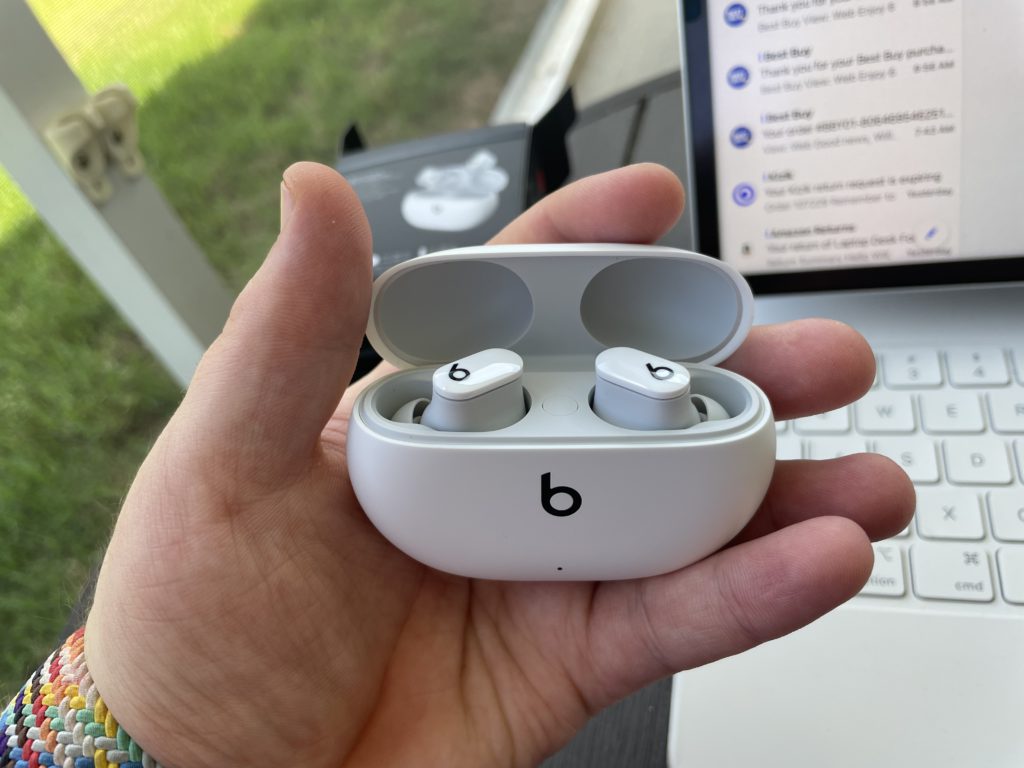 The ANC & ambient modes, as well as sound quality are all decent – decent enough for me to not have an issue. None of the 3 categories are best-in-class, but that's okay with me considering the other things these buds bring to the table.
One big thing I like about the buds is their integration with Apple's OSes. There is no separate app you have to go into to change modes or tweak things – you can do it right from Control Center, or in the native Settings app.
One thing these buds do not support is any kind of lossless Bluetooth codec, limited to just AAC and SBC. However, I have speakers for that when I care about that, and overall, I've come to the conclusion that I either cannot tell on a lot of tracks, or once again, that I just don't mind giving that up in exchange for the convenience. It's also worth noting that iPhones are inherently limited to 256kbps AAC over Bluetooth anyway, so this will only bottleneck other devices.
The buds sport a water/dust resistance rating of IPX4 – pretty standard for 2021, and plenty for those who want to work out in them. Although others on my list above go all the way up to a waterproofed IPX8 (Jaybird Vista 2s).
I am typically using these for leisure, so while a higher rating is a nice-to-have, it is not a deal-breaker as far as I am concerned.
Finally, the one gaping hole for me with these buds is wireless charging. I will freely admit that I was pretty shocked/disappointed that these did not sport at least a wireless charging option when announced. I would have dropped another $50 to have this luxury, as I am set up for wireless charging all around my house.
Alas, though, it hasn't been too big of a burden in the 3 weeks that I have been using the buds. I have charged the case probably 4 times, or so. As well-set up as I am for wireless charging, I suppose I am equally-well-set up for USB-C cable charging as well.
All in all, I really love these earbuds. They are so very comfortable, that a lot of the other mediocre to non-existent things about them simply fade away into the experience of using them.
Have you tried the new Beats Studio Buds? What do you think? What's important to you in a set of truly wireless earbuds?
UPDATE: I originally wrote this article a few days before I posted it. Since then, for good measure, I have double-checked the WF-1000MX4s, as well as the AirPods Pro. After bouncing back and forth, I am confident on my recommendation of the Studio Beats Buds.
I will also reinforce that while it still stings that the buds do not have a more premium-feeling and wireless charging case (once again, Apple, please come out with one!), it just simply excels in too many other areas.
Do you have the new Beats Studio Buds? What do you think?
Sound off in the comments below, or send us a mention on Twitter @Appleosophy. Also – check out our recently-launched video version of Appleosophy Weekly: https://youtube.com/c/Appleosophy