As of this past Sunday, it has been one year since I purchased my OtterBox Defender case on my iPhone 8 Plus, and that is an important milestone for me.
For starters, when I first got my Product Red iPhone 8 Plus in 2018, I initially had it paired with a clear OtterBox Symmetry case because I really wanted to show off the shade of red on the phone since it is still a nice version of it.
However, a year passed and the OtterBox case cracked on the side. Then I went and got my first-ever Apple-branded case, which was a leather case.
While I liked the case at the time and thought it suited my phone well, I found that it would be somewhat hard (or weird) to grab at times. Not to mention that it did not have any form of screen protector on it. Sure, I could have bought and plastered one on there, but that's not for me.
Last summer, I finally made the switch and spent the extra money to get myself a black OtterBox Defender case that I'm writing about now.
Looking back on it, even though it may be a  bit bulky of a case, I like the fact that I know that I never have to worry about my iPhone being damaged. This is not to say that I throw or drop my iPhone constantly. It's just that will all of the stresses going on during everyday life, this is one that I do not have to worry about.
If anything, my two issues are that I wish I would have switched to it sooner and that if the fine folks over at OtterBox could find a way to make it so little things don't get wedged in my screen (particles, hairs, etc).
Other than those minor issues, with the first one being my fault, it is one fine case that I'm proud to call mine.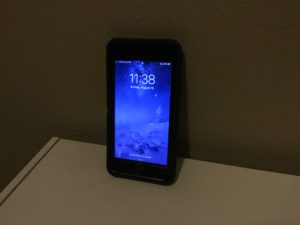 What are your thoughts on OtterBox Defender cases? Do you use them or do you have a family or friend that uses them? Comment below or let us know on Twitter at @appleosophy.