Over the past few days, I have had the opportunity to test out the new Apple Weather app that was updated and released with the iOS 15 update that launched on Monday this week.
Those who do not know, for about three years, I have been using the CARROT Weather app as my primary weather app because I have found it to be the most accurate weather app in the App Store.
However, when it was announced last year that Apple had purchased the Dark Sky Weather app, it certainly got my attention and I knew that it had to be used on the default Apple Weather app.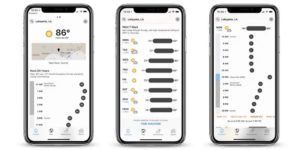 Fast forward a year and a half later, we have that new Weather app on the iPhone. So, without further ado, here are my thoughts on it.
What I do like about the app is that the design of it seems to have been changed from the ground up. I like that it has so many new features and info related to your local weather, as well as a built-in radar that has been needed for so long.
It's also nice to see that when you scroll below into the location you are in on the app that it tells you the feels like temperature too.
All of these features have been needed for the app for a while and I'm glad that they are here.
However, the biggest two features of them all in the new app are weather notifications and alerts. It's great that the app is now offering notifications for local watches and warnings. CARROT Weather has had these features for a while now and those features alone have made me loyal to it for that reason.
Now I can get notifications for when there is going to be precipitation in my area and weather alerts like severe thunderstorm warnings.
While it may not seem like much to some, it is a great update for the Weather app that I hope only gets better from here.
The only issues I have found with the app are simple ones. My first complaint is that I wish the feels like temperature would show up on top of the app near the actual temperature outside, as well as the fact that I wish I could modify its Complication on the Apple Watch to show me the feels like temperature instead of what it thinks the temperature is.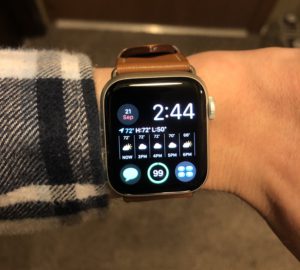 Another issue is the new Weather app needs to be brought to the iPad on iPadOS 15. Yes, you can add the widget for the weather, but there is no dedicated app to it. Instead of it taking you to the app, it takes you to The Weather Channel website since that is its data source.
Here is the first look of the home screen on my #iPad5G. Obviously this could change, but for now, the only widgets I have up are the new @Apple #Weather widget (which surprisingly there is still no app for in #iPadOS15) and the @flexibits #Fantastical app widget. #TeamiPad pic.twitter.com/FNjbmqgYYq

— David Becker (@iBeckTech) September 21, 2021
I also hope to see the weather-related notifications brought to tvOS on the Apple TV. In a time where people are streaming from services like Netflix, Hulu, Disney+, Prime Video and Paramount+ frequently, they're not seeing the traditional Emergency Alert System (EAS) alerts that they would normally see if they were watching live programming on cable/satellite TV.
Other than those issues there, it's been a good app to me so far and I cannot wait to see how it will perform while I use and test it out this fall.