Apple previewed its dramatic waterfront store elevated above cascading water steps, Apple Al Maryah Island, which is set to open its doors this Friday. As the name suggests, the store is situated inside The Galleria mall in Abu Dhabi's prestigious financial district, Al Maryah Island, having the best shoreline view.
You can also check out YouTuber EMKWAN's video below to get a closer look at the store and embrace its beauty. Make sure to check out the fantastic sunset view of Apple Al Maryah Island at the end of this video.
This store will introduce three new Today at Apple sessions exclusively for Abu Dhabi:
Photo Walk: Fluidity and Motion with iPhone 13 Pro, co-created with local photographer Mohamed Somji
Music Walk: Liquid Soundscapes with GarageBand
Art Walk: Drawing Creativity Within Session Guide
More than 80 employees at this store represent 28 nationalities who speak more than 30 languages. Apple's senior vice president of Retail + People, Deirdre O'Brien, said, "We couldn't be more thrilled to open the stunning Apple Al Maryah Island this Friday. Our talented team is ready to welcome and delight customers from this vibrant community to our newest location in the Emirates."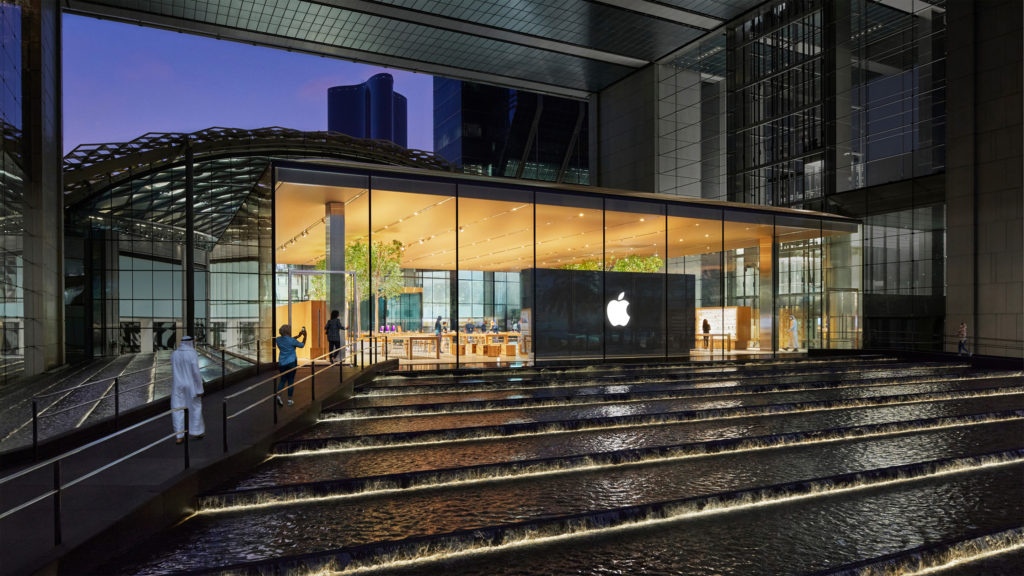 The new Apple Al Maryah Island features contemporary design elements in situ with its surroundings. For the first time, Apple used Absolute Black granite stone for the two ramps at the promenade. The continuous flow of water inside the store blurs the barrier between inside and out.
Additionally, the store features a locally sourced golden carbon-fiber roof at the top. There is also a 72-foot-long mirrored foil ceiling installed at the front of the store. It creates a kaleidoscopic effect with the water falling down the walls, and those reflections can be seen above.
The Apple Store will open its doors for first visitors in Abu Dhabi this Friday (February 25) at 5 p.m. local time. Customers can visit Apple Al Maryah Island on an opening day only with a prior appointment.