Paramount+ is focusing even more on sporting events.
On Tuesday, the streaming service added a new Sports section in its app in Version 8.0.56. Previously, the app had three sections that were Shows, Movies and News. Now the sections read Shows, Movies, Sports and News.
This Sports section is limited to the content Paramount+ is streaming live that day, whether that is UEFA soccer, NCAA college basketball or football or NFL football. As you can see in the photo below, that is an NFL game on CBS and being streamed through Paramount+ via Apple TV Channels.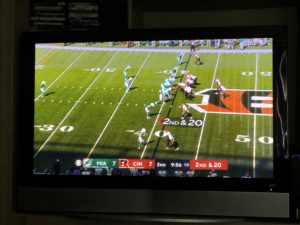 In the section, users can find out what time a game is being played, as well as be prompted below with other related content the service recommends streaming.
Right now, that specific feature is only available in the Paramount+ app and cannot be found in the version of Paramount+ on Apple TV Channels. Its channel does have a Sports section in it, but only shows on-demand sports-related content on Paramount+ such as "Inside The NFL" (a Paramount+ Original), "Major League" and "Bella and the Bulldogs."
Paramount+ currently starts at $4.99 a month for its ad-supported tier and $9.99 a month for its ad-free tier. There is also a bundle that includes both Paramount+ and Showtime content for $11.99 a month too.
Both services are available to stream on the iPhone, iPod Touch, iPad, Apple TV and Mac.