Last weekend, I had the opportunity to try out Vidgo, a live TV streaming service that exists and one that could be a great solution for consumers across the U.S. as an alternative to competitors like YouTube TV, Hulu with Live TV or fuboTV.
My time to try out the service in 2022 came when I was looking to stream the 2022 Daytona 500 with my brother. Watching that race is something we have done for years and always have a great time doing so.
For starters, let's talk about channel selection.
Vidgo does provide customers will a wide variety of channels where there is something for everyone to stream live. It will not have channels like TBS, TNT, but does provide other networks like CMT, NewsNation, all of the Hallmark networks, Discovery, Disney Channel, TeenNick and others.
Additionally, it does provide local ABC and FOX stations. Even if you are not in a TV market where your local station is provided, Vidgo will provide a station for you to watch. Thankfully this year, my local FOX station in Des Moines, KDSM, is on Vidgo, although I do remember streaming a station in New York last year to watch new episode premieres of "Last Man Standing" on this service.
Where Vidgo excels is with sports fans, as this streaming service does provide channels like ESPN, ESPN 2, ESPN U, ESPNEWS, FS1, FS2, NFL Network, NFL RedZone, MLB Network, Texas Longhorn Network, NHL Network, PAC 12 Networks, SEC Network and Big Ten Network (BTN).
That in itself is a major deal for sports fans, as there will rarely be an issue of not being able to have the channel they need to stream a sporting event live.
In my experience, the streaming quality was a lot better than services I have used in the past such as Sling TV or even streaming my local CBS station with Paramount+. There were no issues whatsoever with buffering, which says a lot since my internet provider is certainly the best it should be.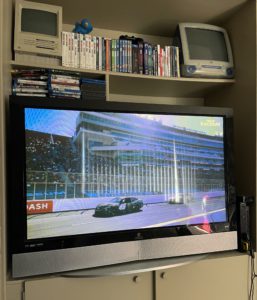 The photo above shows the great streaming video quality that I received while watching the Daytona 500 last weekend.
When it comes to navigating the interface, it's not bad at all. It has certainly come a long way, especially the Apple TV app. The only thing I will say when it comes to its iOS and iPadOS apps is you have this social aspect of the interface where the idea is to socialize with other people who are streaming the channels live too.
For me, this feature is sort of annoying and just doesn't seem to have a purpose, as well as the fact that when I have been streaming a channel, more likely than not, there are not other viewers talking during the show.
Its Apple TV app is pretty great, especially if you factor in how it used to look, as seen in the photo below.
In 2022, its Apple TV app (below) looks a lot more modern and organized, and reflective of what other live TV streaming services have done (image courtesy of Warehouse)
Vidgo's iPhone and iPad apps have Picture-in-Picture support, which is something that YouTube TV still does not consistently have, but with plans to add it "soon."
On-demand is a major aspect that has made the service much better. Users now have access to streaming TV shows and movies that have recently aired on its channels. It makes it so users always have something to watch live or on-demand.
Lastly, the price of the service starting at $55 a month makes it so it is quite competitive with other live TV streaming services mentioned above that start at $64.99 a month. You can view all of Vidgo's plans and channels here.
While not perfect, I will say that in 2022, Vidgo gets 4/4 stars from me. It has improved so much over the past couple of years. Live content shows up in the best picture quality possible, on-demand content is there and easy to find and navigate, and the interface is as simple as tap-and-play when in the channel selection.
In a world that now feels like constant chaos and uncertainty, Vidgo is here to help you relax and enjoy live content at a modest monthly price.
Rating: 4/4 stars