Over a week ago, I was fortunate enough to be able to purchase the brand new iPad Air fifth generation with its M1 processor, as well as the Apple Magic Keyboard to go along with it.
During the past week or so, I have been able to test this thing out and then some, both at home and in public.
Since this is going to be a long review, I'm just going to get right into it.
When it comes to the exterior design of this iPad, it is one of the best ones out there. It is so powerful with its M1 processor, but what is even more important to note is this iPad Air is so slim! You would never think that a tablet with this much power could be so minimalistic.
In fact, it is so slim and simple that I can hold it with one hand.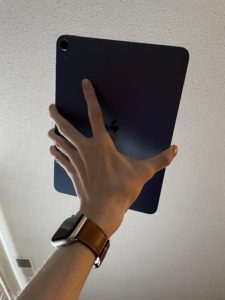 I do like that this iPad Air did get Touch ID in its sleep/wake button across the top. It makes it easy to unlock since it does not have Face ID and I do like that I can use that button up top for future Apple Pay purchases too.
Oh, and it needs to be said that the shade of blue Apple chose this year for the iPad Air is perfect. Not too dark and not too light. It's the perfect shade for a product like this.
The camera on the rear of it is a 12MP ultra-wide one with support for Apple's Center Stage. It might sound peculiar to add such a great camera to an iPad, but you have to also think of how many people could and will be using a device like this on a daily basis. With this type of camera there, it can be used for simple personal photos like taking a selfie, a picture of a flower, or something more professional or advanced like a picture of The Grand Canyon or a waterfall.
Below you can see a photo I took on this iPad Air of the coffee shop area at my local Barnes & Noble.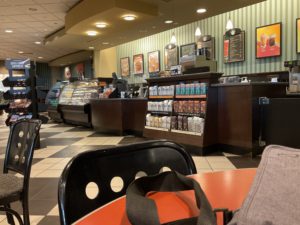 Even though the iPhone has come a massive way when it comes to its embedded cameras, I mean, if the tech is there, why not give the iPad Air some camera love? And that's exactly what Apple has done with this iPad, as well as the iPad Pro, iPad Mini and the regular 9.7-10.2-inch iPads.
Its Liquid Retina Display also has the screen and pictures show up much clearer. Reading books on this thing on Apple Books and the Kindle for iPad app is an enjoyable experience because of the display too. Watching TV shows and movies on it is sharp and pleasing to the eye.
We also need to talk about its performance.
In my experience, there has been no lag or issues with iPadOS when it comes to using this for internet surfing, writing, watching content on streaming services and overall navigation.
Having multiple and many apps open at once is not an issue either. It has performed better than I thought it would when it came to that.
The only issue I have had with iPadOS on this iPad is the Safari Extensions, specifically with the Grammarly once since it does not work with the Apple Magic Keyboard connected to it. It will show your errors in your writing, but when you put the cursor over it, the app does not allow you to see the options on how to correct what you have written. That is something that either Apple or Grammarly is going to have to fix at some point because of how pivotal both products are in everyday life.
Speaking of which, let's talk about the Apple Magic Keyboard.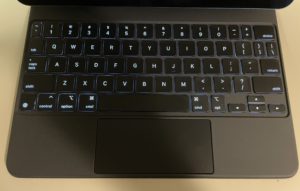 I can say that this is the best keyboard case I have ever used. It is so much better than Apple's original Smart Keyboard for the iPad. The buttons click better and even have a satisfactory click to them.
To make it even better, just like the MacBook, the keyboard is backlit, meaning there are lights under the keys while you are using it. This makes it so, if necessary, you can type in the dark and still be able to see your keyboard.
For me, this is a huge deal since the main reason I got the Magic Keyboard with my iPad Air was so I could write more when on the go. I know that a device like my MacBook Pro is supposed to be one that you take on the go with you, but when I do take that device, I always like to have my iPad with me too. So, if I could just take one with me and still get my writing done and fulfill my needs for a keyboard, then why not get a device like this iPad Air? That was my logic behind a lot of this.
Since I purchased this Magic Keyboard with my iPad Air, it has made me journal even more in the Day One Journal app. It's always nice that the device itself syncs with photos I took on my iPhone, so when I want to add photos, very rarely do I have to use AirDrop in order to put them in the journal entry.
All in all, by combining these two devices together, it has proved to me one thing; for some people out there, the iPad with the Magic Keyboard can truly replace a desktop or laptop computer for someone. The portability is great and there are features for everyone with the iPad and this keyboard.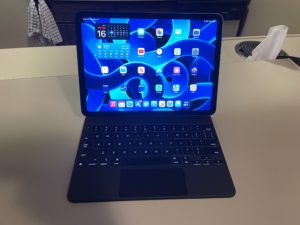 Overall, when it comes to the performance and design of the iPad Air fifth generation, it gets 4/4 stars. For the iPad Air, this is cutting edge innovation from Apple and a product that is going to get better with more age and software updates.
The Magic Keyboard gets 4/4 stars from me too. The amount of travel it allows for typing is better than some Windows laptops and Chromebooks I have used previously. Having the cursor on it makes the iPad Air and iPad Pro a force to be reckoned with on the tablet market.
iPad Air 5th Generation Rating: 4/4 stars
Apple Magic Keyboard Rating: 4/4 stars