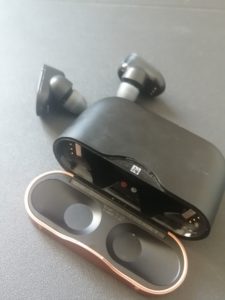 Sony's flagship truly wireless earbuds, WF-1000XM3, were released in 2019. With the upcoming release of WF-1000XM4, it'd be a great time to revisit the WF-1000XM3 and see if they still hold up when using them with Apple products, 2 years later.
WF-1000XM3 Internals
The WF-1000XM3 are powered by Sony's own processor, QN1e, that are capable of HD noise cancellation. Sony claims that its battery life is up to 24 total hours of battery life with noise cancelling on & up to 32 total hours of battery life with noise cancelling off. Alongside battery life, there are a plethora of functions that can be used through its own app.
Let's dive deeper into the WF-1000XM3.
Battery Life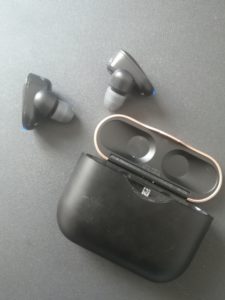 Having used WF-1000XM3 for the past 2 years, they have held up mighty fine when using them with my iPad 7 and MacBook Pro 2018. The total battery life of the earbuds have gone down from hitting near ~23.50 hours with active noise cancellation on to getting a total of ~22.46 hours. With active noise cancellation off, my pair went from a total battery life of ~31.56 hours to ~31.20 hours. Additionally, it takes me roughly ~1.46 hours to charge both earbuds at the same time through the case and ~3.40 hours to charge the case itself. Overall, the battery life has remained excellent. The music experience is much like the same.
Sound Quality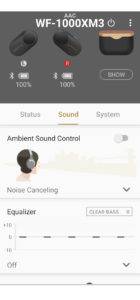 The music experience hasn't changed one bit. Sony's headphones are known to have a deep bass and 2 years after, it hasn't changed for the WF-1000XM3. Of course, this can be tweaked within the earbuds' free app, using the equalizer. It must be noted that with active noise cancellation on, the bass & overall sound will sound deeper & louder respectively compared with active noise cancellation off, regardless of the device which has the music on. Whether you choose to use active noise cancellation or not, the sounds are always crystal clear, thanks to DSEE HX processing. However, if you want to immerse yourself in your music or podcast, then active noise cancellation is the way to go.
Active Noise Cancellation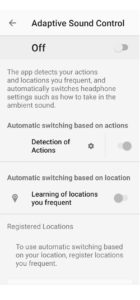 For those who want to simply listen to their podcast or music with no distractions, the active noise cancellation on these earbuds will go above and beyond their needs. With the best ear tip fit, the noise cancellation blocked all low-frequency sounds around me. If you are on the go or don't have time to change the noise cancellation, the adaptive sound control will do it for you. Adaptive sound control, available as an option with the app, will modify the ambient sound settings of your earbuds to maximize active noise cancellation. Even 2 years after, the noise cancellation's efficiency hasn't changed.
Calling Quality
But, if you only want earbuds for calling, then WF-1000XM3 will barely cut it. While the WF-1000XM3's active noise cancellation tries its best to cancel out low-frequency noises, it ultimately does not lend itself to a clear voice for the person on the receiving end. Often, I have had friends tell me that my voice was barely audible in a noisy environment. So, if you are going to use these for any calls, make sure to be in a quiet environment.
Buy or Pass?
Now, 2 years after, should you still buy the WF-1000XM3? If you're in the market for a good end, active noise cancellation truly wireless earbuds & want to buy one right away, then WF-1000XM3 is a good choice as it still outdoes the competition by a mile. I encountered no issues when testing it with the iPad 7 & my MacBook Pro 2018. However, if you want a high end, active noise cancellation earbuds by Sony, then WF-1000XM4 would be worthwhile waiting for.