It would appear as though one of the features on both the iPad and MacBook were not announced today during Apple's WWDC 2021 keynote.
A feature that has been made available on the iPhone and Apple Watch for years now is Low Power Mode, which basically reduces how much power your iPhone uses when it is in use and not in use, and can stop other apps and features from working in the background.
Appleosophy's very own Will Sigmon found this on his iPad Pro when he downloaded the iPadOS 15 beta software to his iPad, as shown in the photo below.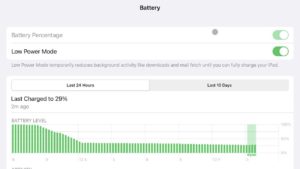 According to MacRumors, Apple has also listed Low Power Mode as a new feature on its macOS Monterey page.
With other devices like the iPad, MacBook Air and MacBook Pro gaining more and more popularity with their sleek design and portability, it makes sense for Apple to finally bring this feature to iPadOS 15 and macOS Monterey devices.
To access Low Power Mode on the iPhone, simply go into the Settings app, scroll down to the Battery tab and open it and then Low Power Mode should be the second tab on the screen.
A similar process will be found on the iPadOS beta once it is released to the public next month, as Apple likes to keep things like that familiar and simple to its users.
Both iPadOS 15 and macOS Monterey are expected to be released sometime this fall but an exact date has not been announced.
What do you think of iPadOS and macOS finally getting Low Power Mode? Comment below or let us know on Twitter at @appleosophy. You can also click here to find out what happened at Monday's WWDC Apple Event.