One of the new features that Sling TV brought to the Mac last year was "Watch Party," which allowed its users to watch live and on-demand content together.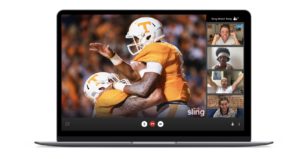 The big reason for this at the time was due to the ongoing lockdowns caused by the coronavirus pandemic, which did not allow many people to get together in large groups like people do when watching movies or sporting events.
Fast forward several months and the feature is now available on the iPhone, which makes the feature more accessible to Sling TV users.
However, those who are wanting to use the feature must have an active Sling TV subscription in order to watch content with family and friends through it.
To start a Watch Party through the Sling iOS app, simply find the live or on-demand content you want to watch, tap on where it is at, hit the Watch Party button and select the people you want to watch the content with.
Sling TV costs $35 a month and is available to stream on the iPhone, iPod Touch, iPad, Apple TV and Mac.