Apple has unveiled iPadOS 15 today at their annual Worldwide Developers Conference; giving developers and users a new operating system full of exciting and useful updates to their iPad. Here is a glimpse into what is new:
Widgets:

iPadOS 15 brings widgets to the iPad allowing for users to quickly and efficiently interact with their favorite applications. Users can interact with these widgets directly from the home screen and now move them around allowing for the better use of larger iPad screens. As well as this new customizability, more apps such Find My, Contacts, Mail have added widgets.
Multitasking:
Multitasking gets redefined as a new window manager is introduced allowing users the ability to have Fullscreen, Split View, or Slide Over. With Fullscreen you can choose to focus on a primary app or content, unlike Split View which allows you to select two apps and manage windows seamlessly. Slide Over allows for access to the home screen for easy access to the secondary app. Overall, these new multitasking settings will allow users to maximize screen space.
Notes & Live Text:
The notes app has been updated with a more collaborative and user-centered focus as links and images allow for more organized and detailed notes. As well as Quick Notes have been introduced allowing for small windows to appear for quick short messages to be written when in other applications. Another key feature that can be paired with the new Notes app is Live Text which allows users to view an image with text and copy/paste the text to their Notes, Safari, Contacts, etc.
FaceTime: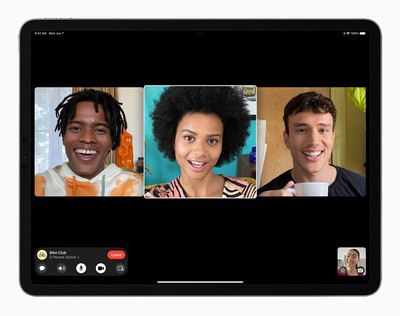 The new release adds SharePlay which allows friends on FaceTime to share their music, screen and paves the way for users to view content together through the app. In addition, spatial audio allows for a more intuitive way to hold a conversation through FaceTime.
Safari:
Redesigned tab bar allows for a more efficient way to manage the space of the iPad which paired with grouped tabs allows for users to organize their web tabs for certain topics or names you assign and is synced across all your devices. Lastly, extensions are added to Safari which brings in the loved macOS extensions to your mobile devices.
Other Features:
Besides these main features, there are more exciting features that you should know about!
Focus

System mode that prioritizes overall productivity and lifestyle by controlling notifications and creating limits. As well as organizing applications based on the activity desire.

Universal Control

Users are able to transfer files and information from your iPad to another Apple device if you are in close proximity.

Translate App

As found on the iPhone, the Translate app now defaults on iPadOS 15 and has continued to be developed and improved.

Photos

Better memory management allowing for the use of Apple Music and Visual Lookup to pinpoint information from images.
Overall, iPadOS 15 seems to address and bring fundamental features that were simply from iPadOS 14. Despite the lack of game-changing features, iPadOS 15 continues to keep the iPad one of the best tablets on the market.