In a time where streaming appears to be the new king when it comes to watching new movies and TV shows. However, Apple has decided to try something new with one of its original series.
The Apple TV+ mini-series "Defending Jacob" has been released on DVD and Blu-ray, and is the first-ever Apple TV+ content to be released physically on a disc.
Right now, Amazon is currently selling the DVD version for $19.96 and the Blu-ray for $34.99.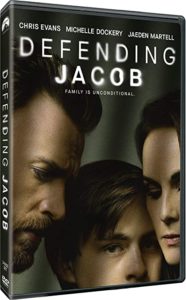 If you are looking to buy the DVD or Blu-ray in stores, your best luck at this time will be through Target and Walmart. Both stores have the DVD version in stock, but there does not appear to be a Blu-ray version in stores at this time.
Those who buy through Target's stores or app will be able to purchase it with Apple Pay and get 2% in Daily Cash if they purchase it with their Apple Card.
To see what "Defending Jacob" is all about, please watch the trailer below.
Apple TV+ is available in the Apple TV app and costs $4.99 a month.
What are your thoughts on Apple putting their Apple TV+ series "Defending Jacob" on DVD and Blu-ray? Comment below or let us know on Twitter at @appleosophy.