Other streaming devices like the Roku saw an update on the AT&T TV live TV streaming service that allowed users to pause live TV that would be playing.
Now the feature has been added to the AT&T TV app on iOS, iPadOS and tvOS devices. This means that users can pause, fast-forward and rewind live channels on AT&T TV.
Cord-cutting website The Streamable has posted a photo of what that looks like when being used on one of the Apple devices mentioned above.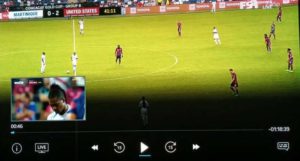 AT&T TV currently starts at $69.99 a month and is the only live TV streaming service at this time that enables users to stream regional Bally Sports channels live (available on the Choice package for $84.99 a month).
What are your thoughts on AT&T TV bringing its "Pause on Live" feature to iOS, iPadOS and tvOS devices? Comment below or let us know on Twitter at @appleosophy.