It was reported recently by 9to5Mac that Apple Pay support could be launching soon in Chile and South America.
Fast-forwarding to today, it appears as though that report is true, according to Pisapapeles.
Apple has launched its Apple Pay website page for those in Chile which is an indicator in this case that the contactless payment method will be launching there soon. For now, the page says that the service is still "coming soon."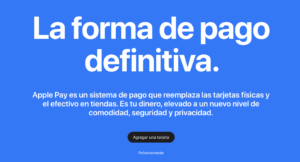 On that page, Apple is giving users the option to "add a credit card," which is not currently available as support still technically has not been officially launched.
Pisapapeles has also stated that financial institutions such as Banco de Chile, Banco Itaú, Banco BCI and BICE could be some of the first ones to begin supporting Apple Pay in Chile.
Apple has also made it official that Peru and Argentina are set to be getting Apple Pay support soon. With the addition of Chile in the mix, it does show Apple's commitment to putting Apple Pay in South America.
At this time, for Chile, Peru and Argentina, there is not a set launch date for those places to start their Apple Pay acceptance. However, we can imagine that the time is getting close.
What are your thoughts on Chile and other parts of South America potentially getting Apple Pay support soon? Comment below or let us know on Twitter at @appleosophy.