While there are many streaming services on the market today, not as many people know about Philo, which is a live TV streaming service designed to be for streamers who are not as interested in sports networks like ESPN and FOX Sports.
A few days ago, its iOS, iPadOS and tvOS apps received an update that now allows for users to use Single Sign-On. This came with Version 3.0.0 of those apps that has the following updates:
– Single Sign-On support
– Universal search
– Deep-linking additions
– Improved authentication and subscription registration
Apple states Single Sign-On as this on its support page: "Single sign-on simplifies access to entertainment apps like HBO Max and FXNOW. With it, you sign in only once on your Apple TV to get immediate access to all the supported apps that require your cable or satellite pay-TV credentials."
Single Sign-On is accessed through the Settings app on the iPhone, iPad or Apple TV. From there, once the user has gone there, they will choose their TV provider and sign in with their credentials.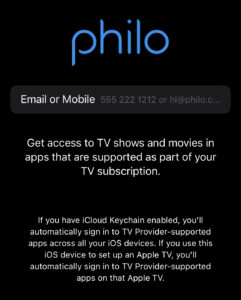 This makes it so if a user then, after signing in with Single Sign-On on one of their Apple devices listed above, downloads an app like the Nickelodeon app, when they open said app, they will not have to sign in with their Philo TV credentials because Single Sign-On will have already taken care of that for them.
Philo currently costs $25 per month and is available to stream on the iPhone, iPod Touch, iPad, Apple TV and Mac.
What are your thoughts on Philo adding this feature to its live TV streaming service and Apple apps? Comment below or let us know on Twitter at @appleosophy.