Last year, I was fortunate enough to check my email for a promotion in regards to the ad-free version of HBO Max.
This promotion essentially allowed me to get HBO Max without ads for $7.49 a month for my first six consecutive months of using the service, which is an even better deal than its $9.99 ad-supported plan.
Me being the person I am, I decided that it would be a good idea and that it could be a little treat for myself for the upcoming cooler fall months.
A couple of months went by after subscribing and I felt like I had not used the service enough and thought about canceling it. The only content I seemed to be watching was the weekly new episode of HBO's "Hard Knocks" about the 2021 Indianapolis Colts season, "The Big Bang Theory" and "Doctor Who" Christmas episodes.
However, at the last second, I decided to think about it so more before I made my final decision.
And then January 1, 2022 hit.
I decided that it was time to get fully delved into the streaming service, and what better way to do so than to watch the eight-movie "Harry Potter" series, as well as the 20-year anniversary special that HBO Max ironically released on that same date as a MAX Original. The anniversary special would be watched after I streamed the first eight movies.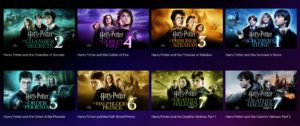 So there I went after New Year's Day and took about a little over a month to stream all eight films on the "Harry Potter" movie series. Mind you, before watching them on HBO Max, I had never seen them much previously, so you could say everything was going to be new to me.
With all of that said, here is what I can say about my time with HBO Max and watching all of those "Harry Potter" movies.
For starters, the interface is not bad. I do like the "Continue Watching" section on the main screen when you enter the app since that is a feature every good streaming service app should have.
Additionally, the nearby "For You" and "My List" pages are conveniently placed so I can see the movies and TV shows that I want to stream. Its "Just Added" section is a great way to see everything new on the service as well.
The black and purple backdrop in the interface is nice too. When you are looking at it during the day or night, you don't feel as though it is putting a strain on your eyes.
Under those previously mentioned sections is where you find other movies and TV shows that the service recommends you to watch. When looking through the catalog, I noticed that HBO Max has a lot of great content to watch and there is truly something there for everyone to see.
When watching content on it, the player is good. Most of the time, I generally had no issues with it. When using the HBO Max app on my Apple TV HD, I did enjoy the fact that it did not take much to turn on the closed captioning. I put it on sometimes, not because I have hearing problems, but when watching media where there is a strong foreign accent, some of the words are hard to understand and I don't want to constantly have to be asking Siri, "What did they say?" Although that is a great feature and clever on Apple's part in tvOS, I don't want to have to be saying it all the time.
As for streaming and video quality, I saw no issues with it most of the time. Every now and then, I did have the issue of the video getting slightly fuzzy due to my Wi-Fi connection, which is fine, but it did not seem as though the app was doing much to correct the issue.
It's one thing if the content gets fuzzy due to the not as strong internet connection, but the app did not try to correct itself and bring back my content in HD again. This happened only a couple of times when watching "Harry Potter," so I would have to close out of what I was watching and then reload it to get my HD quality back.
Other than those minor occurrences, the HBO Max worked almost flawlessly.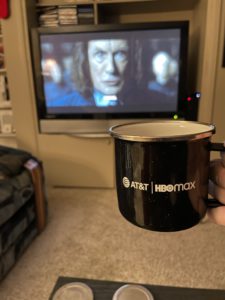 The photo above is a picture of an HBO Max coffee mug I purchased online while testing out the streaming service.
HBO Max has definitely become one of those streaming services where content-wise, it can compete with streaming services like Netflix, Hulu and Prime Video. When you have a library of TV shows and movies like "The Big Bang Theory," "Doctor Who," "Rick and Morty," "Harry Potter," "Free Guy" and "The Matrix" movies, you're just asking to get people to subscribe and tune in.
In fact, I'd say that if someone gave me the option of having Netflix and Prime Video or just having HBO Max, I'd choose HBO Max. The content is great, there's room for growth (in terms of other media I'd like to watch) and the purple and black background really gives it a one-of-a-kind experience.
Overall, in 2022, HBO Max gets 4/4 stars from me. While it does have some small hindering problems, they are easily fixable. The big thing for me is the content is there, which has been a problem for me the past couple of years during the pandemic when looking for something new to watch.
HBO Max currently costs $9.99 a month for its ad-free tier and $14.99 a month for its ad-free version. It syncs with the Apple TV app and is available to stream on the iPhone, iPod Touch, iPad, Apple TV and Mac.
Rating: 4/4 stars