Last Wednesday, it was my birthday and because of that, later on in the week, I took the time to finally replace my iPad fifth generation and get the iPad Air fifth generation.
My reasoning for this is due to me wanting to have something like a laptop but not a laptop for work (since Appleosophy is not my full-time job) and for short vacations or travels. The other factor here too is I have found the iPad Air to be more portable than a device like my MacBook Pro.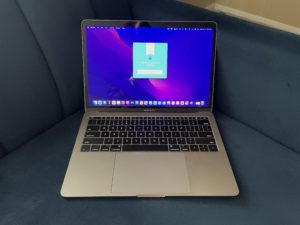 This is not to say that I hate my MacBook now and have no use for it. I just want to primarily use it at home for home usage and then have the iPad Air for work and travel reasons.
Another reason that I got it was because I wanted to be able to have another device to use Day One Journal from. Journaling is a fun hobby of mine and Day One Journal is my favorite app of them all for that. In the past couple of years, I have gotten lazy with it, with this year being a year that I want to use it more, hence why I made it my New Year's Resolution to write more in it.
With that said though, what are my initial impressions of the iPad Air itself?
Well, I do love the shade of blue it has. Blue has been a color I have been transitioning all of my everyday Apple products to since it is my favorite color. Other Apple devices I have in blue are my iPhone 12 Mini and AirPods Max.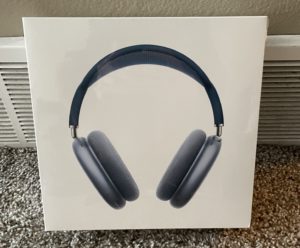 When it comes to the design, holy slim. This thing has all of the power and more you could want out of tablet because of Apple's M1 processor in it, but it is surprising just how small and slim they were able to make this product. Also, even though it is incredibly slim, there is a slight bit of heft to it when you add the Magic Keyboard to it.
The Liquid Retina Display looks absolutely fantastic on it and really does add an element of "wow" to it. It's the type of wow that sort of makes you want to show this thing off to your friends and family and say, "Look how far we have come!" The fact that we can have a conversation in 2022 about a tablet being able to do almost all of the work of your average computer is nothing short of phenomenal.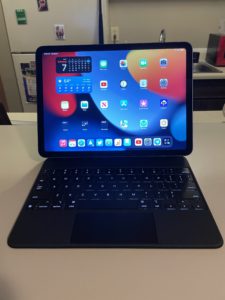 Watching videos and TV shows and movies on the iPad Air is nice too because of said Liquid Retina Display too. A nice added touch to this device are speakers on both sides of the iPad Air when it is in landscape mode. It makes it so audio is not coming from just one side anymore and one can be immersed in the audio they are getting on this iPad.
The only downside I have in this iPad Air, and it is a small one, is I wish battery life was a little better. I have heard a lot about the M1 processor making it so battery life on the MacBooks and iPad Pros was so much better. While I have no doubt that battery life on the iPad has gotten better since I got my 9.7-inch iPad fifth generation a few years ago, battery life on this fifth-generation iPad Air I wish was a little better.
Over the coming days, since it is a new product for me, I'll be looking into ways to save the battery on it.
However…we're not done here.
The Magic Keyboard was the accessory that I purchased with this iPad Air and I can said that its slim design and look get it a futuristic and modern look.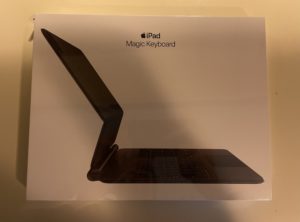 Most importantly, I don't know how Apple was able to pull it off, but the keyboard on this is simply outstanding. It's the best keyboard I have ever used on a tablet. I remember when Apple came out with the first version of this, specifically the Smart Keyboard. It was decent for its time, but the button pressing and finger travel were inadequate for my needs and uses for an iPad at the time.
Now the Magic Keyboard buttons have a satisfactory click to them and the travel, while not perfect, is certainly tolerable and can be made to work.
And how do I know that both of these products work so well?
This entire First Impressions article you have been reading was entirely written on said iPad Air fifth generation and Magic Keyboard.
Be sure to read my full review in the coming days for each of these products.