Sunday night during the NASCAR Cup Series race on FOX, I have the fortunate opportunity to try out the Domino's Pizza Apple Watch app.
This is something I have wanted to do for a while since I have heard you can see the status of your order right from that app and not have to go to your iPhone or be reliant on text messages from Domino's to see the status of the app.
I will say that I did download the Domino's app on my iPhone 12 Mini and placed the order that way since I had no previous order history, which is required if I wanted to place it entirely from the Apple Watch. Also, in the case of placing that order, I would much rather order on an iPhone screen since it is bigger and I wanted to get it exactly right.
Once my order was placed, I could immediately see the status of it in the Apple Watch app. It was neat that the app was also able to find my order by me simply adding my phone number to the app. This is convenient for people like me who did not create an account on the app when making their order.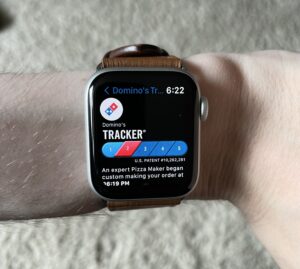 While waiting for it to be delivered, I could always open the Apple Watch app to see what its status was and what time it was placed too.
About 30-35 minutes later, I did receive my pizza from the Dominos delivery guy and it was a good pizza, and I enjoyed it overall.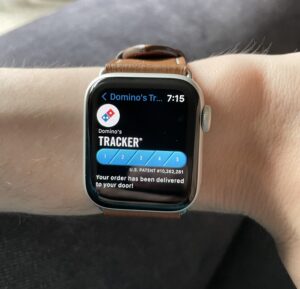 However, despite me enjoying the pizza and being able to view the status of it within the Apple Watch app, there was a noticeable issue with the app, which was the fact that not once, despite me allowing it, I did not once receive a notification about my order.
Sure, I could see the status of my order from the app, as mentioned earlier, but there was no notification about whether or not my pizza had started baking or that someone had begun the process of being delivered, and then put in a rough estimate on when it would be delivered to me. Domino's could do all of this through notifications and then in the said notifications, encourage you to open the app to possibly get even more info regarding the status of your order.
I understand that it is just an Apple Watch app and that it can only do so much. At the same time, with the kind of tech that we have in 2022, I sort of think this should be built into the app without thinking about it.
All in all, it is cool to think that you can manage your pizza order all from your Apple Watch via the Domino's app. Heck, if you wanted to, you could order pizza entirely from it without the need to open an iPhone or iPad app. Domino's is the only pizza chain I have seen do this, so it's cool to see that someone at its corporate office made this happen. Either that or Domino's IT department.
Still, it needs to have those notifications. They are crucial for customers. If anything, at least let the customers know when your order has been given to the delivery person so they can anticipate when it will be at their front door.
For this review, I'm giving the Domino's app 2/4 stars. Trust me, I want to give it more, but without the necessary notifications for your order, it makes it hard to rank it higher. Notifications are a very important piece of the pie, if you will.
Rating: 2/4 stars