Apple Watch is one of the most innovative products manufactured by Apple. People love the Apple Watch and its features. To all Apple Watch users, You might be interested to know about the new upcoming features of watchOS 7 that have been revealed by the codes found in iOS 14 obtained by 9To5Mac.
There are several interesting and innovative features coming to the next version of watchOS:
SchoolTime: With SchoolTime, Apple will take parental control to the next level. Parents will be able to control and manage which apps their child will be able to use during certain hours like in school.
Apple Watch for Kids: Parents will have the ability to activate a second Apple Watch for their children, without the need of a second iPhone. This feature will allow parents to have control over the apps, features, and contacts their children use. As of now, it is possible to activate multiple Apple Watches from a single iPhone but they cannot be used together as each of them are connected to the same Apple Account.
3. Watch Faces: A watchOS update can't be called a real update if it doesn't have new Watch Faces. According to the codes found in iOS 14, obtained by 9To5Mac, watchOS 7 will have a minimum of three new Watch Faces.
a) Sharing Your Watch Face: You will have the ability to share your Watch Face with specific configurations to other users with the help of the sharesheet on the Watch App on iOS. These Watch Faces can be transferred from one iPhone to another with the help of AirDrop, and in a file format which can be previewed in the Files App. There is no confirmation as yet if Watch Faces can directly be shared between Apple Watches itself because only codes of iOS 14 have been revealed, and not watchOS 7. My opinion is that Apple will bring this feature to the Apple Watch too because it will be easier for users.
b) Infograph: There are 2 Infographic Watch Faces currently in watchOS 6, named "Infograph" and "Infograph Modular" which were introduced earlier in 2018. Apple plans to add another Watch Face called "Infograph Pro".
c)Tachymeter: This feature will be added to the Apple Watch in watchOS 7. A Tachymeter calculates the distance and speed in accordance with time. This will be added as a complication in the Watch Faces of the Apple Watch.
d) International Watch Face: According to the codes found in iOS 14, obtained by 9To5Mac, watchOS 7 will introduce a new 'International' Watch Face which will show flags of different countries.
Source: 9To5Mac
e)Photos: As of now, you can make Watch Faces from Photos from individual photos and groups of photos from albums. New code found in iOS 14 suggests that there will be a third option called "Shared Albums". For instance, if you set a Shared Album as your Watch Face, photos added by others will also be displayed.
Apple may also add 3rd Party Watch Face Support, although not confirmed, but since Apple will integrate 3rd Party Wallpaper support on the iPhone on iOS 14, they are likely to add it to the Apple Watch as well.
4. Sleep Tracking: Yes, you read that right. One of the Most anticipated and wanted feature is most likely coming to the next generation of Apple Watch. Screenshots of an unreleased version of the Alarms app which contained the mention of a "Sleep" App had been listed in the App Store which was spotted by a MacRumors reader, Daniel Marcinkowski last year. According to sources of 9To5Mac, last year, Apple is working on Sleep Tracking and the feature is codenamed as "Burrito" Since Apple is working on the Sleep Tracking Feature, they will most likely add it to the Apple Watch Series 6. The Control Panel will most likely have the toggle for Sleep Mode.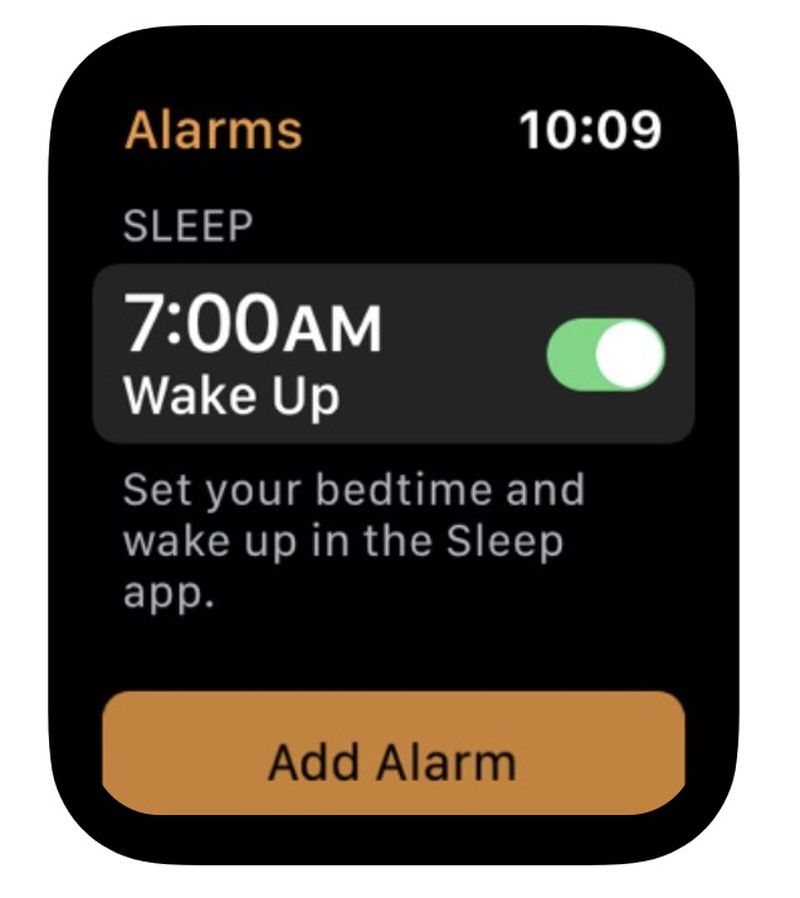 Screenshot of the unreleased Alarms App, Spotted by a MacRumors reader, Daniel Marcinkowski.
5. Blood Oxygen: The integration of the next generation of the Apple Watch, with the next generation of watchOS, will allow us to measure Blood Oxygen Levels for the first time on an Apple Watch as found out in the codes of iOS 14 obtained by 9To5Mac.
Let's hope that we get all these interesting features in the first beta of watchOS 7 which will be released in June.