Ever since the release of Nintendo Switch in 2017, it has continued to dominate the console gaming world, from the sale figures to the news. However, it might have some competition if Apple goes through with its plans for its own ARM console.
Nintendo Switch
Having bought and sunken hundreds of hours into my Nintendo Switch Lite, I could see the appeal of it. A handheld console capable of playing console games on the go. What's not to like about that? Because of its unique capability to be a home console and a handheld console, 84.59 million units have been sold worldwide. With no real competitor in sight, Nintendo continues to hold a dominant position in the handheld gaming console space.
But that may change if Apple's gaming plans come to fruition. On July 11, 2020, a leaker named Mauri QHD put out the following tweet:
Mauri QHD on Twitter: "Apple working on an ARM console ? im hearing" / Twitter
The Nintendo Switch houses the Nvidia Tegra which uses the ARM silicon as a CPU. Though there are rumors swirling around of another refresh of the Nintendo Switch with a stronger CPU releasing potentially this fall.
Apple's ARM Console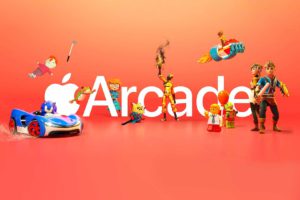 Apple has thrown its foot into the gaming scene with its subscription service called Apple Arcade. It offers a large library of mobile games without any ads or in-app purchases that can be played on any Apple device. However, it hasn't been very popular with many people, including me. While it includes original and old games, none of them can live up to the games that Nintendo can offer with the Nintendo Switch.
So, could Apple be working on an ARM console to attract console games to its platform? It certainly wouldn't be out of the question. If Apple is to make Apple Arcade a success, then one of the options they could take is developing an ARM console capable of running console games.
Specs and Form-Factor
What could be the specifications of Apple's ARM console? Let's take the Baseline Switch that was released in 2017. It is capable of running Witcher 3, though, with many compromises such as extremely downgraded graphics. If Apple is to provide a smooth experience with excellent visuals, its ARM console will have to house much more beefier components than the Switch refresh.
But, would the ARM console be handheld or a home console? According to a post on a Korean community website called Clien, Apple is working on a hybrid-type console. Tron, another leaker, tweeted the following on May 7th, 2021:
Tron ❂ on Twitter: "Apple, preparing a portable hybrid console, like the Switch A new AP is being prepared with a new model name, not the Apple A series or M series. It features enhanced GPU performance and ray tracing support. Future games are in negotiation with Ubisoft. https://t.co/K88iSMC4bd" / Twitter
If Apple is preparing a new chip with support for ray tracing, its gaming console could be much more powerful compared to Nintendo Switch's refresh. As it stands, the Nintendo Switch's hardware is not anywhere near to providing ray tracing in games. If Apple could successfully develop a hybrid gaming console with ray tracing support, Nintendo could have a fierce competitor on the block.
With a Pinch of Salt
Though, all of this must be taken with a pinch of salt. Apple is known to prototype many types of devices with barely any of them seeing the light of day. It would be exciting to have an Apple hybrid console with ray tracing support and a real competitor to the Nintendo Switch.