A couple of weeks ago, I decided it was time to upgrade my apartment with a single light. Yes, it is possible.
This decision was made after I was able to get into my local Apple Store for the first time without an appointment (but with a mask, at the time). I made the decision in the store even though I had looked at getting the product several days beforehand.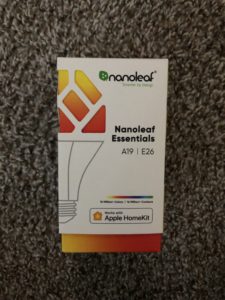 Once I made the decision to make the purchase there in the store for this HomeKit-enabled product, I was happy that the associate there at the store was able to get me checked out quickly. I was able to make the purchase with Apple Card too.
When it came to the initial setup, adding it to the Home app on my iPhone 8 Plus was much easier than on my WEMO WiFi Smart Plug that I purchased recently.
After I got it paired to the app, I was happy that I could change the color of the light from the Home app. However, that is where I found the one flaw with the bulb.
The main issue that I have found in the Home app with the bulb is that most of the light color customizing comes from the Nanoleaf app. I don't like this because then it makes it so that you have to have yet another app on your iPhone or device, making you, the user, reliant on it.
Although you can customize the light a little bit from the Home app, the Nanoleaf app is where most of it is going to come from.
However, when it comes to those said colors, I like how there are so many options and that you can change the brightness of the light bulb. This can be handy if a child wants a night light with a calming shade to it.
Another pro of the bulb is that it works in most bulb outlets. That in itself is huge for a product like this.
Overall, this product gets 3/4 stars from me. It needs work when it comes to customizing the color of the bulb through the Apple Home app on its devices. Other than that, it's a good product that is definitely something nice to have if you are looking to spruce up your home.
Rating: 3/4 stars