Another year of the NFL is happening this year, but ironically, the big focus this year will not be as much on streaming since it is expected that many fans will be at the games this year since there were restrictions last year due to the still ongoing coronavirus pandemic.
Still, there are many fans out there that are going to be looking to stream the games from home and their mobile devices, which is what we plan to show and tell you.
The first method of doing this will be through live TV streaming services like YouTube TV, Hulu with Live TV, fuboTV and Sling TV.
YouTube TV, Hulu with Live TV and fuboTV will be there for those who want the best possible way to stream all of the games, as all of these streaming services carry local CBS, FOX, NBC and ABC stations for regionally broadcasted games. They also have channels like ESPN, NFL Network, and NFL RedZone. However, while they all have NFL RedZone, that might come at an additional cost on top of their $64.99 a month price.
Sling TV does have channels like ESPN, NFL Network and NFL RedZone, but there is a catch to them. Both its Orange and Blue plans cost $35 a month, but the Blue plan is the only one that will have NFL Network and the Sports Extra with NFL RedZone on it for an additional $11 a month.
Those who are wanting to have the best of both worlds can get the Sling Orange + Blue plan for $50 a month. If you are to tack on the Sports Extra with NFL RedZone on it, then that would bring a total monthly cost to $61 a month.
DirecTV Stream is another option that starts at $69.99 a month.
There are two other streaming services that are getting in on the NFL streaming this year, which are Paramount+ and Peacock. This year, users can get subscribe to Paramount+ (previously CBS All Access) so they can stream their local CBS station that will carry their local regional NFL games that week.
With that said, they will need to have the ad-free version of Paramount+ that costs $9.99 a month and can be subscribed to through in-app purchases in the App Store or through Apple TV Channels.
Peacock is the other newer streaming service that will enable its subscribers to stream every Sunday Night Football game live. To do this, you'll have to be subscribed to Peacock Premium which costs just $4.99 a month and can be done through in-app purchases in the App Store.
You can view the full NBC Sunday Night Football lineup here.
For Thursday Night Football, Amazon's Prime Video will be simulcasting 11 of those games this year that will not come with an extra cost from Amazon or the NFL. The simulcast will come from FOX and NFL Network.
There will also be an exclusive game on Prime Video on Christmas Day this year between the Cleveland Brows and Green Bay Packers.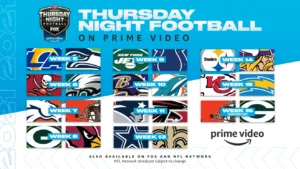 If you are looking to stream any games for free and are now without Locast, you can download the Yahoo Sports app and watch your local NFL games that are being broadcast in your TV market that day.
With that said, they can only be viewed on a mobile device like an iPhone or iPad and cannot be AirPlayed on another device like the Apple TV HD or Apple TV 4K.
Of course, there are apps like FOX Sports, NBC Sports and ESPN that as long as the person signs in with their TV provider that has their local FOX or NBC stations and ESPN as part of their plan, they should be able to stream it.
What are your thoughts on our list? Are you excited for the upcoming NFL season this year? Let us know on Twitter at @appleosophy. If you are interested, we do have an article about how to stream college football games this season too.