In celebration of the 20th anniversary of the original iPod, Native Union – the lifestyle firm that designs and sells unique accessories for Apple devices – has introduced a modern take on the original iPod socks, the AirPods Beanie.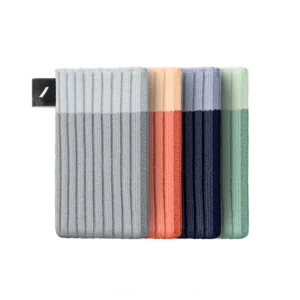 Gone is the era of "1,000 songs in your pocket," as we now rely on millions of songs in the cloud – ahem, iCloud. For those who had an iPod, this is just the accessory to rekindle those loving memories.
"We created the AirPods Beanies as a whimsical tribute to Apple and its 20th anniversary of the iPod. A fun, modernized take on the iconic iPod Socks, our Beanies is as bright, colorful, and instantly recognizable as the original," says Native Union.
Made of 100% recycled nylon and spandex, the Native Union AirPods Beanies fits all AirPods – including the recently released AirPods 3. The AirPods Beanies come in a pack of four with four colors: Glacier, Peach, Indigo, and Sage.
It's worth noting that AirPods Beanie is similar in size and shape to the original iPod socks, except for the fact they're a bit shorter to ensure your AirPods have a snug fit. Unlike the iPod socks, you can wirelessly charge your AirPods through the fabric.
AirPods Beanie retails for USD 19.99 and are available on their website.