Dollar General has been accepting Apple Pay in its stores for almost a whole year now, with the majority of its store acceptance happening this year.
While we have yet to see its app or website get support for Apple Pay, there is now a new way for customers to pay for their items from Dollar General online and still be able to pay for their orders with Apple Pay.
Very similar to Sam's Club's Apple Pay workaround and ordering through Instacart, Dollar General is now doing same-day delivery orders through DoorDash in the United States.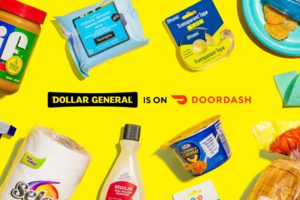 Dollar General is already listed in DoorDash in some areas as a place to order from, with the promise of having 10,000+ Dollar General locations available to order from by December 2021, according to The Verge.
After checking the DoorDash app and website, for those that have a Dollar General to order from in their area, Apple Pay is considered an acceptable payment method for these purchases. This would also make it so for the first time ever, Dollar General customers can use Apple Pay outside of its stores.
Additionally, Apple Card users will get 2% in Daily Cash on each order they make from DoorDash, as well as purchases made inside Dollar General stores from their iPhone or Apple Watch.
Dollar General is not the first dollar store chain to add a feature like this for its customers, as both Dollar Tree and Family Dollar do allow customers to get deliveries via Instacart.
What are your thoughts on there being a way for Dollar General customers being able to get their items delivered and be able to pay for their orders with Apple Pay? Comment below or let us know on Twitter at @appleosophy.