Following its debut in Australia and Canada back in June, Twitter has launched the company's subscription service in the US and New Zealand last Tuesday. There are also new features added to the service such as customization and ad-free reading.
Ad-Free Articles
First and foremost, Twitter Blue users can read articles from many outlets ad-free. However, this doesn't mean that Twitter will become an ad-free network because if you are a Twitter Blue subscriber you'll still see ads. You won't see ads in outlets such as The Washington Post, L.A. Times, USA TODAY, The Atlantic, Reuters, The Daily Beast, Rolling Stone, BuzzFeed, Insider, and The Hollywood Reporter.
Undo Tweets & Reading Mode
The feature that subscribers will use the most in Twitter Blue is Undo Tweets, where users can preview their tweets before they are sent. Another feature from the initial launch is Reader mode, turning on the mode will allow for a better reading experience to threads on your timeline.
Customization
Users on iOS can change things up to their likings with more customization features like changing the app icon, additional themes, the bottom navigation bar, and Bookmark Folders.
Top Articles
This feature is inspired by Nuzzel that keeps users up to date with the most trending and talked-about articles shared on Twitter. Tap the fire icon to see what articles people argue about on the platform. Top Articles is available for Android and desktop only (for now).
Beta-Testing Features
The service's subscribers can use beta features that Twitter is testing, so far there are two features: Longer Video Uploads – which grants users video uploads up to 10 minutes in comparison to 2 minutes for non-subscribers – the feature is available for desktop, and Pinned Conversations – which allows users to pin their DMs to the top of the list and is available for iOS.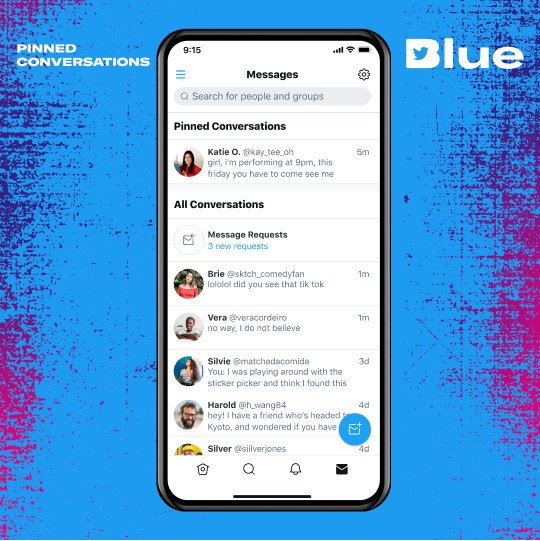 Pricing
If you live in the US, Canada, Australia, or New Zealand, you can subscribe to Twitter Blue to get all the new exclusive features. Here are the prices:
• United States – USD$ 2.99/mo
• Canada – CAD$ 3.49/mo
• Australia – AUD$ 4.49/mo
• New Zealand – NZ$ 4.49/mo