Unlike previous years, I have bought my fair share of Apple products this year.
The reason behind this is I was finally able to get myself in a position where I could purchase and afford a few new Apple products and accessories this year.
I'm not the kind of consumer that will always purchase every new Apple product when it is released. For me, it is meticulous thinking, analyzing, comparing products and prices, and then some more overthinking.
Still, despite all of that going on in my head, I was still able to purchase some new Apple products and subscribe to some of the company's services too.
Here's my list for the year:
iPhone 12 Mini: Without a doubt in my mind, this product here is the best one I have purchased this year. Not only did it allow me to remove the issues I was having with my previous iPhone 8 Plus, but it's a new, faster iPhone, and has a great screen size of 5.4-inches that is very close to my old 8 Plus' size. I love that it is available in blue and that it feels nice in my hand too. Be sure to read my review of it.
AirPods 3: This is still a recent purchase for me but I do like these things. They provide me with great music quality, especially now since I have been listening to a lot of Christmas music. Battery life has been great on them too. You can read my review of it too.
Siri Remote: While everyone else was straight-up buying a new Apple TV 4K, I sat here in my apartment with my Apple TV HD that is not connected to a 4K TV and simply bought myself the new Siri Remote. It has made my Apple TV experience better. The new navigation wheel on it reminds me of the days of the iPod Classic with its click wheel. I have a review of this product as well.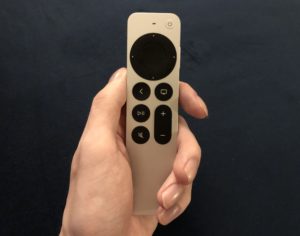 Apple Music: I have been using it since my college days and I think I listened to more new music this year (at least new to me) than in previous years. I'm also happy that even though I'm not a college student anymore, I was still able to get the student discount on the service.
Paramount+ on Apple TV Channels: No, Paramount+ is not an Apple service, but getting it through Apple TV Channels, I believe, technically counts. With that said, this has been a great service for me to use this year, as I have been able to watch new episodes of the CBS Original "Young Sheldon" on it, both live and on-demand, as well as stream old Nickelodeon shows like "Drake & Josh" and the Paramount+ Original 2021 "iCarly" reboot.
The best part about this list is I cannot wait to see what next year's list will bring to it.
What are your thoughts on my list this year? Comment below or let us know on Twitter at @appleosophy.