After recently purchasing AirPods 3 on Black Friday this year, I decided to buy a pair of headphones for something more in the noise-canceling area.
Mind you, I have not owned a pair of headphones since my old Beats Solo headphones that I had received as a great Christmas gift years ago from my mom, where ironically, she bought them on Black Friday and from the same company, Target.
Getting into the entire first impressions of this product itself.
First of all, do you have any idea how hard it is to get the Sky Blue AirPods Max this time of the year? Quite hard online, but thankfully, my Target store had them in stock and I was able to price-match with Newegg.com to get a truly great deal.
I'm also glad that they match the color of my blue iPhone 12 Mini I purchased almost two months ago.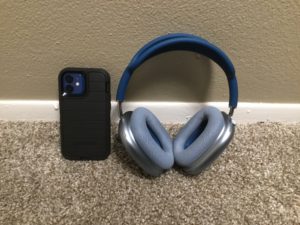 The design of these headphones are truly some of the best on the market right now. I'd go as far as to say that they have the best design of any headphones right now.
What makes the design interesting is that if you are an avid Apple product user, especially if you have an Apple Watch, the controls to the AirPods Max are a great fit because of the continuity between the two products. They both have the Digital Crown and the side narrow oval button, which should be familiar to users of the Apple Watch.
Where AirPods Max truly stands out is sound quality and noise cancellation. One of the primary reasons I bought these is I have a new neighbor down the hall from me in my apartment complex that has a couple of noisy dogs that bark all day while their owner is away. This does not sit well with me since I prefer peace and quiet in my apartment since I am quite introverted and write as one of my main sources of income. Peace and quiet are non-negotiable in my eyes.
The noise-cancellation feature, when turned on, has made music, TV shows and movies, and phone calls already so much better. It's almost gotten to the point where I might actually prefer wearing these while I watch content on my Apple TV since it makes the viewing experience so much better.
As for other features like the battery and build quality, the battery lasts a long time, so need to worry about that.
I also like that the top of the headphones is not some cheap silicon band that will fall apart in less than two years, as I have seen from previously worn headphones. The band is more of a mesh type and the parts that extend your headphones so they fit your head properly are made of metal and feel durable. This is not to say that you should be dropping these things regularly, though.
Be sure to stay tuned here to Appleosophy as we do plan on doing a full review of these AirPods Max in the coming days.