A few weeks ago, it was announced that Hyatt Hotels would be enabling customers to add their hotel keys to the Apple Wallet app at a select number of its locations.
Rich DeMuro is a tech reporter at KTLA in Los Angeles and recently took a trip to show the internet, not only one of the newest tech-related editions to Hyatt Hotels, but possibly the future of what all hotels could be like one day.
DeMuro's video shows him using his iPhone to add his hotel room key to the Apple Wallet app, using the hotel key from said Wallet app to access the floor that his hotel room is on in an elevator and opening his hotel room from his iPhone.
Customers do also have the option of using their Apple Watch to unlock their hotel room doors, as well as use every other feature that the iPhone has to it once the card goes from the Hyatt Hotels app to the Apple Wallet app.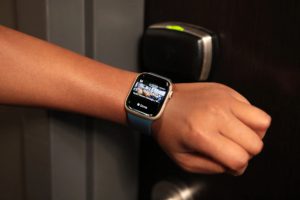 What are your thoughts on Hyatt Hotels enabling this feature for iPhone and Apple Watch users? Is it a feature you would use either at a Hyatt Hotel or another brand of hotel (once the feature is an option at other hotels)? Comment below or let us know on Twitter at @appleosophy.