The viewing experience is about to get a "little" better on YouTube TV soon.
On its Twitter page today, YouTube TV announced that Picture-in-Picture is officially available on all devices running iOS 15. This means that iPhone, iPod Touch and iPad users will be able to use Picture-in-Picture while using the app. It is currently in the rollout stage.
iPhone & iPad users 🔊

We're happy to share that picture-in-picture is now rolling out to your iOS 15+ devices. Simply select a video to watch and swipe ⬆️ from the bottom of the screen to return to the device's homepage. The video can scale down and move across your screen.

— YouTube TV (@YouTubeTV) March 30, 2022
We had reported last month about this feature coming to YouTube TV. Appleosophy CEO Holden Satterwhite said that he had the feature on his account at the time. Other users had reported it as a come and go type of feature, which could mean YouTube TV was testing out the feature.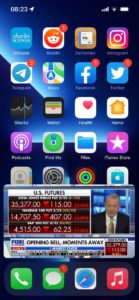 Picture-in-Picture can be used for people trying to multitask by doing things such as being on their iPhone on Twitter and watching the NCAA Men's College Basketball Tournament via YouTube TV.
YouTube TV does have Split-View support available on its iPad app, which does make it so a person could have the Mail app open on one half of the screen and have YouTube TV open on the other side playing a rerun of "The Big Bang Theory" or watching their local news on YouTube TV.
This Picture-in-Picture feature has also been rumored to be coming to regular YouTube, with YouTube Premium users being able to use and test out the feature, but Picture-in-Picture on YouTube has not received an official launch date at this time.
YouTube TV currently costs $64.99 a month and is available to stream on the iPhone, iPod Touch, iPad and Apple TV.