According to industry research, 62% of people will lose data at some point. That statistic may sound quite alarming, but it's an even bigger risk with 76% of people accidentally deleting files on their computer. Whilst there are data recovery specialists are able to get data back from things such as physically damaged hard drives, the same can also technically be said for regular data recovery, but this can be extremely expensive and counterintuitive when aiming to get back potentially only a few important files.
Our feature for this section of the article is focused on EaseUS Data Recovery Wizard, a leading tool for data recovery. Available on both Mac and Windows, the software is crucial in instances of low-level data loss, such as wiping an internal drive accidentally or reformatting a USB that wasn't supposed to be.
About EaseUS
EaseUS is a well recognized tool within the data recovery industry, as it allows everyday users to easily manage, control and recover aspects of data that can save potentially hundreds to thousands of dollars in otherwise simple situations, such as accidentally overwriting a drive or deleting a file from the Trash that you suddenly remembered you needed.
After being founded in 2004, the EaseUS team has grown to over 180 tech professionals which have made various utility software tools such as this article's main app: Data Recovery Wizard. To quote their company profile, here's a synopsis of what EaseUS does:
"Founded in 2004, EaseUS is an international technology company with a vision to provide smart and simple software to individuals and businesses. Our products and services are trusted by more than 5 million users worldwide."
Knowing that the company is trusted by more than 5 million users across the world, plus their average 4.5 star rating on Trustpilot is reassuring to know as other recovery tools are not backed by users like Data Recovery Wizard is.
Using Data Recovery Wizard
Now, using Data Recovery Wizard is very simple from our testing of the software. A free account is able to recover up to 2GB worth of files – suitable for any hobbyist projects or small game saves that one may have in theory. There are also paid solutions available for both 'Pro' users who wish to recover unlimited amounts of data as well as have access to experienced 1-to-1 support and make bootable USB drives from backups.
After going through the website download and install process, it's a simple 3 part process.
"It's as simple as: locate – scan – recover"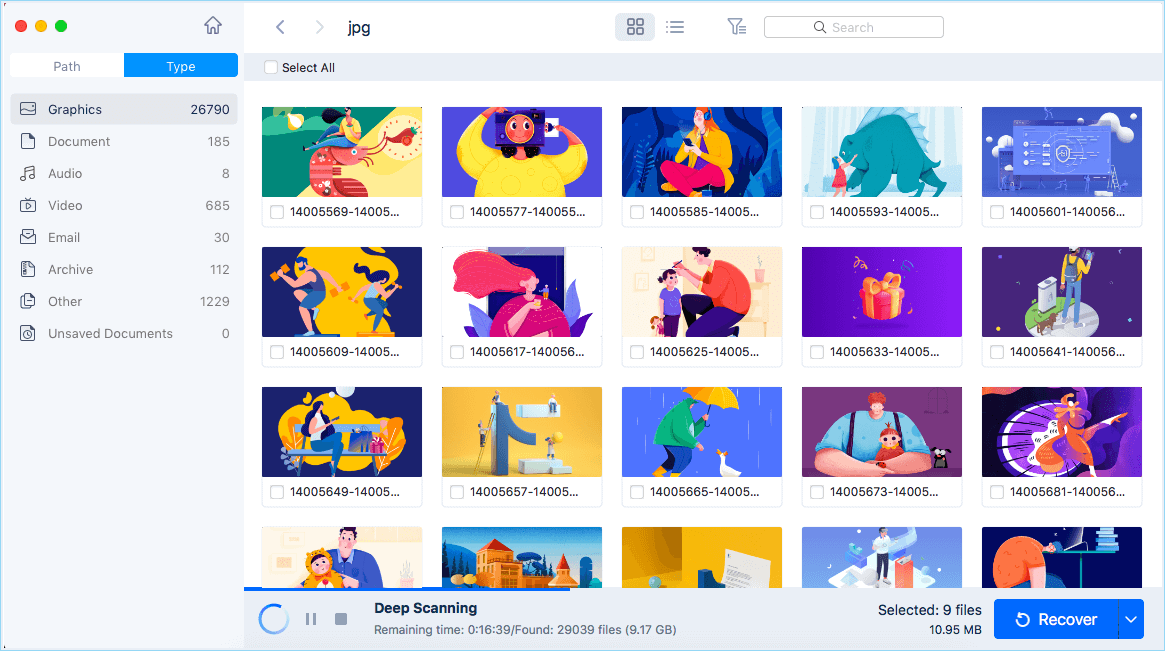 After setting up in your Applications folder and granting the permission to scan for files via the 'Settings' app; a window is present with buttons for each scannable device or partition. The great thing about Date Recovery Wizard is the fact that over 100+ types of common file formats are compatible with the software; anything that can be found – will be. On top of this, EaseUS has integrated support for the most popular file systems such as Apple's APFS.
Supported file systems:
APFS
HFS+
HFS X
FAT (FAT16, FAT32)
exFAT
NTFS
After downloading this for ourselves, a scan took around 2 hours, but keep in mind that this is every single file on the computer – plus some that are hidden to the average user! EaseUS states that for a 1TB drive, a recovery can take up to 10 – 12 hours which is still comparable to even a professional 3rd party data recovery specialist, just without the cost.
Additionally, the Recovery Wizard works with Apple M1 (and newer) devices on top of Intel-based Macs on versions as old as 10.9!! Apple's T2 security chip is compatible with the application, still ensuring the security and integrity of the data.
Review Conclusion
EaseUS seemingly puts the power back in the consumer's hands by allowing them to adequately scan and recover data, meaning that worrying over losing family photos or your favorite music hobby project is reduced. We've reviewed Data Recovery Wizard with a modern 2019 MacBook Pro on macOS Monterey and experienced no issues with scanning, recovering or setup – allowing us to confidently say that the software is trustworthy and stable.
Note that in some cases data recovery may be unsuccessful – even with EaseUS's solution being 90% effective, there are some issues which require specialist attention to be fixed. In the event that nothing can be done to digitally recover the files, it is recommended that a specialist is contacted to potentially do things such as repair the drive or physically dismantle it.