Last month, we reported that starting on Thursday, June 17, the Apple TV third generation would lose its FOX NOW app.
That day has come and gone by now, and we can confirm that not only is the app no longer supported on the device, but it's not even on it anymore. After searching for the app on the device Friday night, the app seems to have been removed from it.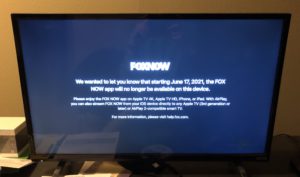 FOX NOW's app removal from the Apple TV third generation comes during the same year where it has lost support for its YouTube, CBS All Access and MLB apps.
The good news is that videos from the YouTube iOS and iPadOS apps can still be AirPlayed to this Apple TV, and users can access Paramount+, the rebranding of CBS All Access, on it through Apple TV Channels in the Apple TV app.
From here on out, the only way to stream FOX NOW on the big screen is through its tvOS apps on the Apple TV HD and Apple TV 4K, and to AirPlay content from a device like the iPhone or iPad.
Current TV shows and content on FOX can be found to stream on Hulu as well.
What do you think of the loss of the FOX NOW app on the Apple TV third generation? Comment below or let us know on Twitter at @appleosophy.