The Apple Online Store has been one of the best ways to buy an Apple product. It has gone through several changes ever since it launched in the 1997. In fact, the online store practically saved Apple when it was on the verge of bankruptcy. It was that moment when Steve Jobs was going after Michael Dell (who said that he'd shut [Apple] down and give the money back to the shareholders).
One of the biggest changes Apple made to its online store was around six years ago, when it merged its main website and online store together to provide a seamless experience of exploring a product and then buying it afterwards.
It seems, though, Apple is going back to its roots today by taking its online store arm down earlier today to revamp the entire online store.
This renovated Apple Online Store has now been designed for a much more optimized experience similar to the Apple Store app on both the iPhone and iPad with much larger graphics/illustrations, highlights, and product categories. The primary difference visitors will notice is the newly-reinstated and dedicated "Store" tab.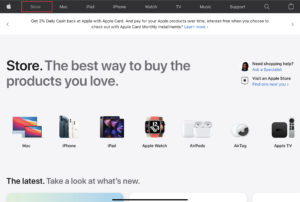 What do you think of this major refresh to the Apple Online Store?
Let us know in the comments below. Follow us on Twitter or Instagram. Also – make sure to subscribe to our new video podcast on YouTube!