The story between Apple and JCPenney has become a convoluted on-and-off-again relationship that just never seems to end.
One aspect of the relationship, for now, is Apple Pay customers can now use Apple Pay at JCPenney in its app again.
We reported last month that JCPenney's website and app had removed support for it, except at the retail store level.
After checking the app again over this past weekend (and checking it frequently before that weekend), support for Apple Pay in the app is back, as you can see from the photo below.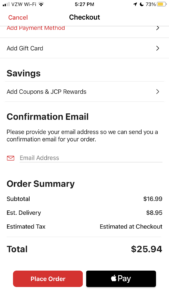 The last time the app was updated was on October 5, which might have been when Apple Pay support was added back to the app. This would have been ironic too, as it was also the 10-year anniversary of the death of Apple co-founder and former CEO Steve Jobs.
However, with the holiday shopping season starting and online shopping payment security being what should be a top priority for JCPenney, the retailer is now accepting Apple Pay in its app again and retail stores.
It does also mean that Apple Card users will be able to get 2% in Daily Cash for every purchase they make from the JCPenney app, which is available on the iPhone and iPad.
It is unknown whether or not Apple Pay support will return to the JCPenney website. Right now, other than manually putting in your card info on its website, the only other alternative payment method for its website is PayPal.
What are your thoughts on Apple Pay returning to the JCPenney app? Are you tired of the on-and-off-again relationship between Apple and JCPenney when it comes to Apple Pay support? Comment below or let us know on Twitter at @appleosophy.