It has now been over two weeks since I purchased my new iPhone 12 Mini, and with that, comes my review of the case I purchased for it, a black OtterBox Defender.
I have previously used OtterBox Defender for some of my older iPhones such as my iPhone 4S, iPhone 6, and most recently, my now-old iPhone 8 Plus. I've also used them on devices like the iPod Touch fourth and fifth generation, iPad Mini first and second generation, and iPad fifth generation.
Needless to say, the OtterBox Defender case has been one case and brand that I have been loyal to and will not be leaving anytime soon.
With all of that said, it is keeping my current iPhone 12 Mini safe too.
Before I bought it, I did my research and spoke to a friend about it and was told that getting an OtterBox Defender was unnecessary because of how tough and durable the iPhone had become as a whole and was not as fragile and its previous versions such as the old iPhone 4, iPhone 4S or iPhone X.
However, me being the person I am and overthinking everything, I went ahead and got the OtterBox because I am all about durability and protection, as well as it is a point of pride with me that my iPhones, after I am done with them and replace them with a newer model, look just as nice as they did when I originally got them.
For this OtterBox Defender case, one aspect of it that makes it stand out from the previous cases I have had is that it is a lot lighter and more minimalistic. I no longer feel like I'm carrying a weight in my pocket.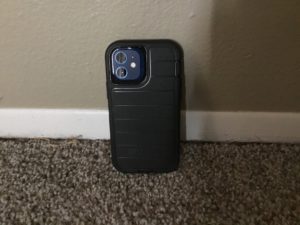 I also like the feel of it in my hand. Another reason that I have tended to buy OtterBox Defender cases is they are easy to grip. I personally tend to drop things or not be able to grip items as easily as the next person. At least that's how it feels. Not once with this case have I had any such issue grabbing it. It was an issue I faced all the time with my old Apple-branded leather case.
The fear of dropping and damaging my iPhone 12 Mini is gone (for the most part). Even if I was to drop it, I don't feel like it would do any or little damage to the phone, and therefore, not have me go out and replace it.
Despite OtterBox being known for its rugged and durable cases, this case here does support wireless charging, as it did with my iPhone 8 Plus, which is once again, another nice feature of this case.
Lastly, the buttons on the side are easy to push. No more of this using a case for a week or two and having stubborn buttons on the top or side. The issue is completely gone from this version of the case, making me a happy customer.
Overall, OtterBox has outdone itself again with its iPhone 13 Mini/iPhone 12 Mini case. It is because of how great this case is, I'm giving it 4/4 stars. It protects my iPhone 12 Mini, gives me peace of mind if I do happen to drop it, looks nice and feels great in the hand.
If a salesman offers you AppleCare+ or any form of insurance on your iPhone, say no and get an OtterBox Defender case. I don't think you'll regret it.
Rating: 4/4 stars