The NCAA Men's Basketball Tournament will be starting soon and many Americans out there are going to be looking for multiple ways to stream it this year.
Thankfully, we have a few solutions to that.
The tournament will be broadcast on four channels this year that include CBS, TBS, TNT and TruTV. Games are set to begin on Tuesday, March 15.
For starters, the best way to stream most of the games live will be through Sling TV. While Sling TV does not have your local CBS station in most TV markets, it will carry TBS, TNT and TruTV where a lot of the games will be covered.
Other streaming services include YouTube TV, Hulu with Live TV and DirecTV Stream.
One option that viewers should consider since it will allow users to stream multiple games on the same screen at once is through the official March Madness Live app. As long as you sign in with your TV provider credentials, you can stream the games live from the app. This works for those using live TV streaming services, cable or satellite TV.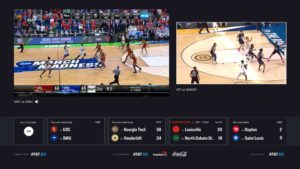 However, this feature is only available on devices like the Apple TV HD, Apple TV 4K, as well as alternative devices like the Amazon Fire TV, Google TV and XBOX One.
Viewers will get the games that coincide with their TV provider plan. For example, if you have Sling Orange, you could stream the games on TBS and TNT all at once from the March Madness Live app.
Another option of streaming March Madness games is through Paramount+, which provides a 24/7 stream on the user's local CBS station. All the games that are set to air on CBS will also be available to stream on at no additional cost to Paramount+ users.
Additionally, Paramount+ viewers can also watch the Sunday Selection Show to see which teams get in the tournament this year. That will air on CBS and Paramount+ at 6 p.m. ET on Sunday, March 13. It can be streamed from most of the other live TV streaming services listed above too.
Paramount+ starts at $4.99 a month for its ad-supported plan and $9.99 a month for its ad-free plan. Those that want to subscribe to it through Apple TV Channels can stream their CBS station through that method as well.
What method do you plan on using to stream March Madness this year? Comment below or let us know on Twitter at @appleosophy.